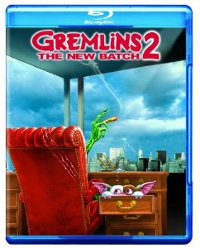 Gremlins 2: The New Batch Blu-ray (Warner) is not merely the rare sequel that is funnier than its original, it is one of the funniest comedies of its time, a veritable live-action cartoon from Joe Dante at his most unrestrained. Set in a New York skyscraper, Gizmo, the cuddly, the sweet-natured teddy bear of a pet introduced in "Gremlins," is rescued from a downtown genetics lab by Zach Galligan (now a commercial artist in a corporate cubicle world) and once again doused with water, which releases an army of nasty little lizard-like creatures that sprout like boils from the creature's back. This time, however, the Gremlins have modern science on their side and use the genetic drugs to mutate into a nightmarish bestiary.
John Glover is inpsired as the excitable mogul (equal parts Ted Turners and Donald Trump) and Dick Miller gets to join the fight this time, but they are all upstaged by the erudite talking Gremlin (voiced with sneaky wit by Tony Randall). Director Joe Dante tosses in tributes to Ray Harryhausen, Busby Berkeley, and dozens of classic movies, skewers Ted Turner ("Tonight on the Clamp Cable Channel: "Casablanca," now in color and with a new, happier ending!"), and casts Christopher Lee as a ghoulish scientist with a gallows humor.
Features commentary by director Joe Dante, producer Michael Finnell, writer Charlie Haas, and actor Zach Galligan, an alternate "home video" sequence of a key scene (originally seen on the initial VHS release of the film), twenty minutes of deleted scenes (including an alternate animated Chuck Jones-produced title sequence with Bugs Bunny and Daffy Duck), a short spoof of a "making of" featurette (where Gizmo and the Gremlins turn into stuck-up prima donnas), and the obligatory gage reel.
The original 1984 Gremlins (Warner), which plays out the wicked demon invasion in a small town right out of "It's a Wonderful Life" (complete with a crotchety Mr. Potter crossed with the Wicked Witch of the West), also gets a re-release this week.