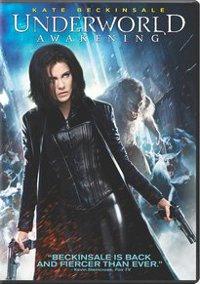 Can you believe that Underworld: Awakening (Sony) is the fourth film in the cyberpunk horror film / action movie hybrid of vampires, werewolves, and the humans caught in crossfire of their underworld war?
Following a flashback installment, where Rhona Mitri slipped into Kate Beckinsale's leather girdle, this chapter jumps years into the future, where Beckinsale's vampire assassin Selena wakes up from suspended animation to find that her kind has been hunted to extinction by a new breed of human / werewolf genetic cocktail. Oh, and she now has a child, thanks to experiments conducted during her frozen layover.
The awakening of the title refers to her revival in the future (which, thanks to the continued bleak tech noir look of drizzly nights, rain slicked streets, and neon blue and cold white lighting, looks just the same as when she left), but you wonder if maybe the filmmakers have finally awakened to the diminishing returns of the series. This chapter, directed by the Swedish team of Måns Mårlind and Björn Stein, is still pretty much dedicated to celebrating Beckinsale running up walls, firing guns, and kicking CGI beastie butt while dressed in black fetish gear. The rest is a blur of generic exposition, random plot twists, vaguely maternal instincts, sloppy CGI animation, and Stephen Rea looking like a waxwork as a genetic scientist dipping into the monster pool to create a new master race.
It all feels very second hand, right down to Charles Dance leaving his dignity behind to play the king-in-exile of the vampire nation and India Eisley playing Beckinsale's test-tube daughter Eve as a B-movie Chloë Grace Moretz, getting the ferocious adolescent action figure part down pat but struggling to provide a modicum of personality to the role.
The film was released in 3D and there is indeed a Blu-ray 3D edition as well as standard Blu-ray and DVD editions. All versions feature commentary by directors Måns Mårlind and Björn Stein (who identify themselves by their Swedish monikers Mårlind and Stein), producer Richard Wright, and executive producer / visual effects supervisor James McQuaid, plus an Ultraviolet digital copy for download and instant streaming.
The Blu-ray includes five featurettes (about an hour's worth, played straight through) on the production, casting, and special effects. There's a lot of talk about potential future installments in the film series, which seems like wishful thinking based on the film's unremarkable box-office. Also features a blooper reel and music video.
The Blu-ray 3D edition also includes a 2D version and an exclusive collection of pre-visualization sequences. Also available OnDemand and at Redbox kiosks.