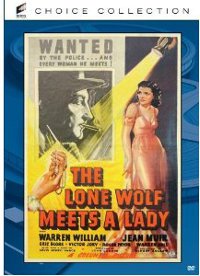 The Lone Wolf Meets a Lady (Sony Pictures Choice Collection) was Warren William's third film playing retired gentleman jewel thief turned freelance detective and knight errant Michael Lanyard, aka The Lone Wolf, but it's the first of the nine Warren William Lone Wolf films to appear on home video. Hopefully it's not the last.
William made his career playing another kind of wolf in dozens of early thirties films, the seductive (and sometimes oily) middle-aged businessman always on the make for younger woman. Lanyard also has an eye for the ladies, but he's more chivalrous, a charming rogue who matches wits with both the police and the underworld to solve crimes and rescue damsels in distress. In "Meets a Lady," he doesn't even get the girl. Rather, he plays cupid as well as detective as he solves a jewel theft (which the cops want to pin on him) and a murder pinned on an innocent girl (Jean Muir) in love with a society gentleman. William brings such a ease to the role, a high society Robin Hood who enjoys sparring with the police, and Eric Blore is superb as the loyal butler who misses the good old days of bit heists and high speed getaways.
The 70-minute programmer from 1940, shot completely on a studio backlot, is a step up from the usual B product. It features a solid cast of character actors (Thurston Hall as the dogged and clever police inspector just waiting to get the good on Lanyard, Victor Jory as a crook playing all angles for whatever money he can squeeze out of the players) and a modicum of style. And if the mystery is as generic as they come, the personality makes the film. I hope this is the beginning of a series roll-out. Maybe in a multi-disc set like the Warner Archive's collections of "The Saint" and "The Falcon" series starring George Sanders.