New Releases:
"Haywire" (Lionsgate) is Steven Soderbergh's version of a drive-in action movie: lean, sleek, and disciplined. The thoroughly conventional script (by Lem Dobbs) involving outsourced international espionage, corrupt players, dirty tricks, and righteous vengeance moves at the speed of mixed martial arts champion Gina Carano's reaction time and Soderbergh designs the film around her skill set. The superb supporting cast (Michael Fassbender, Ewan McGregor, Bill Paxton, Channing Tatum, Antonio Banderas, and Michael Douglas) get to play in the genre sandbox with entertainingly stylized performances. Blu-ray, DVD, and On Demand and available at Redbox. Videodrone's review is here.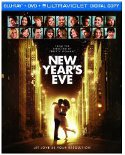 "New Year's Eve" (Warner), Garry Marshall's inevitable follow-up to "Valentine's Day," puts another mostly-star cast through the contrivances of mixed messages, romantic yearnings, and generically happy endings at the drop of the ball. Blu-ray, DVD, and On Demand.
"Joyful Noise" (Warner) stars Queen Latifah and Dolly Parton (in her first big screen role in 20 years) as rivals who have to put aside their differences to help their church choir in the national championships. Blu Blu-ray, DVD, and On Demand.
"W.E." (Anchor Bay), Madonna's second feature as a director, dramatizes the love affair between King Edward VIII and Wallis Simpson (Blu-ray, DVD, and On Demand, and available at Redbox), and the Korean war drama "The Front Line" (Well Go) dramatizes the human cost of the politics in the final days of the Korean War. (Reviewed on Videodrone here.)
Browse the complete New Release Rack here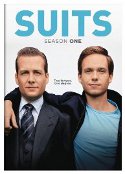 TV on Disc:
"Suits: Season One" (Universal) adds a new wrinkle to the familiar legal drama of high-powered lawyers: aggressively arrogant and flinty superstar attorney Gabriel Macht hire a brilliant young hustler (Patrick J. Adams) with a photographic memory and no law degree. The light, deft, entertaining series is more about office politics and gamesmanship than the actual law, but then when has a lawyer drama even been accused of fidelity to the law? 12 episodes on three discs, with supplements and an UltraViolet digital copy. DVD only. Videodrone's review is here.
"Covert Affairs: Season Two" (Universal) continues the adventures of junior CIA agent Annie Walker (Piper Perabo), juggling a private life (where she keeps her career a secret) and the moral conflicts of field assignments. It's still quite the globetrotting production for a cable series. 16 episodes on four discs. DVD only. Videodrone's review is here.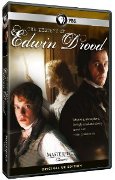 "The Mystery of Edwin Drood" (PBS) is the latest of many productions to tackle the final, unfinished, unresolved novel by Charles Dickens. This British production comes up with an inventive solution more beholden to modern psychology and contemporary British TV mystery than Dickensian drama, but it works just fine. Blu-ray and DVD. Reviewed on Videodrone here.
"Level Up: The Movie" (Warner) is the (barely) feature-length pilot for the live-action series of video gaming teens fighting fantastic foes in the real world, originally made for the Cartoon Network.
Also new this week: the "Roots" of the stars series "Who Do You Think You Are? Season 2" (Acorn), the four-disc collection "A Woman of Substance Trilogy" (Acorn), and the three-disc anthology "The Dick Van Dyke Show: Carl Reiner's Favorites" (Image).
Flip through the TV on Disc Channel Guide here

Cool, Classic and Cult:
"Bird of Paradise" (Kino), directed by King Vidor, came out of a vogue for exotic South Seas romances in the late 1920s and early 1930s. This one stars Joel McCrea as a sailor who runs off with the island chief's beautiful daughter (Dolores Del Rio) for an idyll far from civilization. Long available only in poor public domain editions, this is remastered from a preserved print for Blu-ray and DVD. Reviewed on Videodrone here.
"StoryCorps: Animated Shorts" (PBS) is a half-hour program of ten animated versions of the audio recordings from the StoryCorp project.
"Power" (aka "Jew Süss") (VCI), the first film based on the anti-Semitic novel by Lion Feuchwanger, is a British production starring Conrad Veidt as the scheming Jewish villain.
Also recently released: "I Was a Spy" (VCI), a 1933 World War I thriller  with Madeleine Carroll and Herbert Marshall, and "Carry On Double Feature Vol. 3: Carry On Camping / Carry On Again Doctor" (VCI), both from 1969.
The MOD Movies section this week looks at a batch of music and music-related movies recently released on the manufacture-on-deman​d format, including the rock, pop, and trad jazz party "Ring-A-Ding Rhythm" (Sony Pictures Choice Collection) and the 1945 Gershwin bio-pic "Rhapsody in Blue" (Warner Archive).
All of the Cool, Classic and Cult here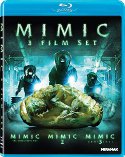 Blu-ray Debuts:
"Mimic: 3 Film Set" (Lionsgate) presents the Guillermo Del Toro's recently-released "Director's Cut" of the original 1997 "Mimic," the creepy underground horror of genetically enhanced insects, in a set with the Blu-ray debuts of the two direct-to-disc sequels. Features commentary on two films and numerous featurettes among the supplements. Videodrone's review is here.
"Men in Black" (Sony) is rereleased along with the Blu-ray debut of "Men in Black II" (Sony), just in time for the new "Men in black 3" coming to theaters. Both editions are packed with all the supplements from the previous special edition releases.
"Clueless" (Paramount), the reworking of Jane Austen's "Emma" as a Beverly Hills high school romantic comedy, is really quite clever, and such a nineties time capsule. Aren't the classic, like, you know, timeless?
"Pillow Talk" (Universal), the first of the chaste sex comedies with Rock Hudson and Doris Day, arrives in an illustrated Blu-ray book case as part of Universal's 100th Anniversary Collector's Series.
Peruse all the new Blu-rays here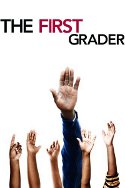 New on Netflix Instant:
"The First Grader" (2010), about an 84-year-old man who demands his right to universal education under Kenyan law, is an uplifting true story of triumph over adversity in a third world setting turned into a conventional, maddeningly cliché-riddled tale of triumph.
Ron Eldard is a "Roadie" (Magnolia) who heads back home after fired from a life on the road. Bobby Canavale and Jill Hennesy co-star in the character piece by director Michael Cuesta.
Standout nonfiction includes the provocative "Marwencol" (2010) and "The People Vs. George Lucas" (2009), an entertaining look at this strange and sometimes contentious symbiotic relationship.
Browse the Instant offerings here
Available from Redbox this week:
Day and date with video stores: Steven Soderbergh's "Haywire" (Lionsgate) on DVD and Blu-ray and Madonna's "W.E." (Anchor Bay).
Also arriving in Redbox kiosks this week: "We Bought a Zoo" (Fox) with Matt Damon and Scarlett Johansson (on DVD and Blu-ray), Ti West's indie horror "The Innkeepers" (Dark Sky), and the British drama "Birdsong" (PBS).