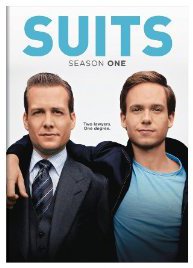 Suits: Season One" (Universal) adds a new wrinkle to the familiar legal drama of high-powered lawyers: arrogant and flamboyant attorney Harvey Specter (Gabriel Macht), the "top closer" in his top flight firm of Harvard Law School graduates, hires Mike Ross (Patrick J. Adams), a brilliant but frustrated hustler with a photographic memory, as his new associate, despite the fact that he arrives at the job interview by accident with a briefcase filled with drugs and he's never been to law school.
Mike has passed the bar, just never under his own name (he made his living taking scholastic tests for lazy students), so he crams for his role and learns the ropes of practical law on the fly with Harvey as his boss and mentor and Harvey's rival Louis (Rick Hoffman) bedeviling him at every turn. Like a lot of TV lawyers, they use quite a few unethical (or at the very suspect) tactics, but it's really about the personalities and the ingenuity applied to the latest case of the week, with a dash of office politics to complicate matters.
The show is light and deft and as entertaining as these things can be, reversing expectations with Macht playing up Harvey's confidence and calculating schemes in public and only revealing his sense of personal loyalty and justice in private, and Adams showing Mike as a decent and sincere guy giving his all for this second chance at a legitimate career. Gina Torres plays the firm's senior partner and Meghan Markle, Sarah Rafferty, and Vanessa Ray co-star.
12 episodes on three discs, including the extended international version of the pilot, plus commentary on the pilot and season finale, a fan Q&A, deleted scenes and a gag reel, plus an UltraViolet digital copy for download and instant streaming. DVD only.