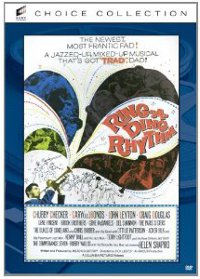 Ring-A-Ding Rhythm (Sony Pictures Choice Collection) is a 1962 British music performance film originally titled "It's a Trad, Dad" (you can see why they retitled for the U.S.). The first feature by American-born but British-based Richard Lester (who went on to redefine the rock movie with "A Hard Day's Night" and "Help") is basically a succession of performances connected by the thinnest of plots: a couple of teenagers defy a ban on jazz by recruiting bands for a big concert. And by jazz, I mean the traditional Dixieland style that had a big youth following in Britain in the early sixties: modern sixties youth listening to music that was new during prohibition. Can you believe those starchy adults and parents are still horrified? Dropped in with the dozens of trad jazz acts (including Kenny Ball and His Jazzmen and the funky Temperance Seven) are a handful of pop and rock performances by the likes of Chubby Checker, Del Shannon, Gary U.S. Bonds, Gene Vincent, and Britain's Helen Shapiro, who also plays one of the leads.
This is a prime example of a director making something out of nothing. Handed a script that does little more than stitch together a succession of musical performances, Lester doodles in the margins, dropping oddball, surreal gags between the numbers and sometimes during the performances. The script is credited to producer Milton Subotsky but the cheeky asides and slapstick flourishes are clearly from the mind of Lester, who came to the film from a series of collaborations with Peter Sellers. It's not that Lester makes anything particularly memorable from it all, but that his light touch and whimsical attitude keeps it buoyant and bouncy and far more engaging than you have any right to expect.
Also from Britain is Just For Fun (Sony Pictures Choice Collection), another Subotsky production with a nominal plot stitching together performances by a more familiar line-up of pop performers, including Bobby Vee (singing "The Night Has a Thousand Eyes"), The Crickets, Freddy Cannon, The Tremeloes, The Tornados, and a batch of other British acts. Both of these, by the way, are the Amicus, before the company redefined itself as Britain's trashier, second-tier house of horror.