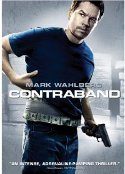 New Releases:
"Contraband" (Universal) stars Mark Wahlberg as a legendary smuggler in a familiar "one last score" story, this one taking him from New Orleans to Panama and back while a psycho drug dealer terrorizes his family. It's a pretty far-fetched plot but Wahlberg meets it with the stalwart street-smart practicality that grounds most of his films, and Kate Beckinsale, Ben Foster, and Giovanni Ribissi provide support. Blu-ray, DVD, digital download and On Demand. Videodrone's review is here.
"Pariah" (Universal), about a young African American woman coming to terms with her identity as a lesbian in a cultural environment hostile to the idea, won awards at Sundance and the Independent Spirit Awards. Blu-ray and DVD, available On Demand.Read a review here.
Linda Cardellini stars in "Return" (eOne), about an American soldier back from Iraq struggling to come to terms with civilian life. DVD only.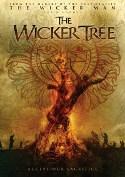 "The Wicker Tree" (Anchor Bay) is Robin Hardy's follow-up to "The Wicker Man," set and shot nearly forty years since his original cult classic, and "The Innkeepers" (Dark Sky), is a ghost story from director Ti West (of "House of the Devil"). Both on Blu-ray and DVD.
"Let the Bullets Fly" (Well Go), highest-grossing Chinese film of all time and a wild mix of Hong Kong action and spaghetti western in twenties-era China, leads off the foreign releases of the week. Videodrone's review is here.
Also new this week: "Young Goethe In Love" (Music Box) from Germany, "Scheherazade, Tell Me a Story" (Facets/ArtMattan) from Egypt, and "Dark Tide" (Lionsgate) with Halle Berry and a killer shark.
Browse the complete New Release Rack here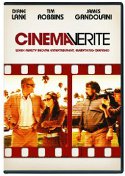 TV on Disc:
"Cinema Verite" (HBO), a made-for-cable feature from directors Shari Springer Berman and Robert Pulcini, dramatizes the story behind the revolutionary "An American Family," the nonfiction 1973 PBS series that shattered all stereotypes of middle class idealism with intimate, raw, revealing portraits of the stresses and contradictions of American life. The movie, which stars Diane Lane and Tim Robbins as the parents and James Gandolfini as the producer, is oddly less daring than the show it recreates but it's engaging and accomplished and follows their story after the end of the show. Blu-ray and DVD. Videodrone's review is here.
"Titanic" (2012) (eOne), a four-part miniseries that ran on ABC earlier this year, marks the anniversary of the infamous disaster with an intelligent drama written by "Downton Abbey" creator Julian Fellows and starring a superb cast of British talent. Blu-ray and DVD. Reviewed on Videodrone here.
"Birdsong" (PBS), a made-for-BBC movie starring Eddie Redmayne and Clemence Poesy, was seen in the U.S. on "Masterpiece Classic." Blu-ray and DVD. And from Japan comes "X-Men: Animated Series" (Sony) and "Iron Man: Animated Series" (Sony), anime takes on the American heroes that ran in the U.S. on G4. DVD only.
Also new this week: "Agatha Christie's Poirot: Series 4" (Acorn) and "Car 54, Where Are You?: The Complete Second Season" (Shanachie Entertainment).
Flip through the TV on Disc Channel Guide here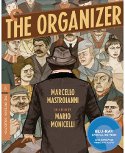 Cool, Classic and Cult:
"The Organizer" (Criterion), a portrait of a labor walkout in a textile mill in late 19th Century Turin, is both a provocative portrait of social action and a rich, compassionate story of a community struggling to hold together to get the smallest of concessions from an employer that demands 14-hour days for a wage that keeps them all in poverty. Marcello Mastroianni plays against type as a threadbare intellectual and labor activist whose idealism keeps running into reality. On Blu-ray and DVD, with an introduction by director Mario Monicelli. Videodrone's review is here.
"Pearls Of The Czech New Wave (Eclipse Series 32)" (Criterion) collects six stand-out films from Czechoslovakia in the late 1960s, when a brief period of relaxed censorship inspired creative and satirical films from young directors. The four disc set gets its name from the omnibus film "Pearls of the Deep" (1966) and includes one feature from each of the participating directors: Věra Chytilová, Jan Němec, Evald Schorm, Jiří Menzel, and Jaromil Jireš. DVD only.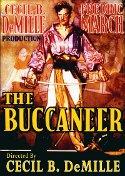 "The Buccaneer " (1938) (Olive) is the first version of the historical adventure / pirate movie starring Fredric March as Jean Lafitt and directed with a dash of brio by Cecil B. DeMille. DVD only. Reviewed on Videodrone here.
More contemporary is "The Girl on a Motorcycle" (Kino Lorber/Jezebel), a psychedelic odyssey of sexual liberation with Marianne Faithfull and Alain Delon from the swinging sixties, and "Hit!" (Olive), with Billy Dee Williams as an American agent on a private mission of revenge against a French heroine cartel with a civilian hit team. Both Blu-ray and DVD.
Also new this week: "Lassiter" (Hen's Tooth) with Tom Selleck, "Badge 373" (Olive) with Robert Duvall, and "Stony Island" (Cinema Libre), the feature debut from director Andrew Davis.
Plus see a round-up of direct-to-disc and B-movie releases of the past few weeks here.
All of the Cool, Classic and Cult here

Blu-ray Debuts:
"Camelot" (Warner), the 1967 musical epic starring Richard Harris as King Arthur and Vanessa Redgrave as a flower-child Guenevere, is considered a classic by many. And while it features a fine score by Alan Jay Lerner and Frederick Loewe and a lavish canvas, the new Blu-ray only reminds us how clumsily directed, haphazardly edited, and stultifying long and lumbering the whole misguided enterprise is. It is packed with supplements, though, and comes in an illustrated Blu-ray book with a sample CD.Videodrone's review is here.
"Tinker, Tailor, Soldier, Spy" (Acorn), the superb original 1980 British TV mini-series adapted from the John le Carre novel and starring Sir Alec Guinness as George Smiley, also debuts on Blu this week with new bonus features.
Also new this week: "Killer Nun" (Blue Underground), an Italian nunsploitation thriller with Anita Ekberg, and "Murder Obsession" (Raro Video), a 1981 erotic thriller from Italy by Riccardo Freda.
Peruse all the new Blu-rays here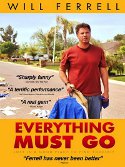 New on Netflix Instant:
Will Ferrell puts aside his buffoon persona for a more everyman role in the tragicomic "Everything Must Go" (2011), a small but lovely film adapted from a Raymond Carver short story.
Also new: "The Passion of the Christ" (2004), Mel Gibson's passionate, personal, and cinematically visceral take on the final 12 hours of Christ's life on Earth, and "Sweetgrass" (2010), a quietly mesmerizing documentary of a year in the life of sheep farmers grazing their herds in the Beartooth Mountains of Montana.
New streaming TV this week includes Ken Burns' epic documentary series "The Civil War" (1990), arguably the most influential piece of historical non-fiction ever produced for television, plus the recent animated shows "Bob's Burgers: Season 1" and "American Dad! Season 6" from Fox's Sunday night animation block.
Browse more Instant offerings here
Available from Redbox this week:
Day and date with video stores: "Dark Tide" (Lionsgate), the surf-and-shark thriller with Halle Berry and Olivier Martinez.
Also arriving in Redbox kiosks this week: "Alvin and the Chipmunks: Chipwrecked" (Fox) with the animated singing rodents, "Let Me In" (Anchor Bay) with the adolescent vampire girl, and the TV series "Downton Abbey: Season One" (PBS) with the British aristocracy and their servants.
And in anticipation of "The Avengers" coming to the big screen, Rebox is restocking DVD and Blu-ray versions of "Iron Man," "Iron Man 2," "Thor," and "Captain America." Start your team building exercises now!