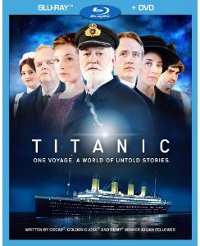 Titanic (2012) (eOne), the four-part British miniseries written by Downton Abbey creator Julian Fellowes and starring a superb cast of British actors, arrives mere weeks after the American run on ABC that marked the 100th Anniversary of the infamous disaster.
This take extends the drama through multiple stories and dozens of characters throughout the passenger list and members of the crew, rewinding back with each new episode for backstory and a fresh perspective on the criss-crossing of characters as they take their respective berths on the ship. The actual collision with the iceberg is more ominous than spectacular, a groaning scrape that sounds more like a monstrous growl than a ship-sinking tear. The panic builds slowly as the consequences of the collision – and the barbarous decision not to carry only enough lifeboats to carry a fraction of the passengers – becomes clear.
No surprise that Fellowes focuses most of the drama on the class disparity and divisions with a particularly critical eye toward the arrogance and entitlement of the idle rich (the actual working rich are much more respectful of the working class) and the institutionalized segregation that kept many of the poor veritable prisoner below deck even as the ship was sinking. One of the hallmarks of Fellowes' hallmarks is how the servant class (and in this case, the ship's crew) police the class borders, and on Titanic, they literally guarded the gates to the upper decks so the poor could not escape.
Though this is most assuredly an ensemble piece with stories generously shared throughout the cast, there are some stand-out performances and memorable characters, among them Stephen Campbell Moore as the engineer, Linus Roach as an aristocrat without class pretension, Toby Jones as his employee well aware how out of place he is in First Class, Maria Doyle Kennedy as his resentful wife, and a sweet below-decks courtship between an Italian waiter (Glen Blackhall) and a forthright stewardess (Jenna-Louise Coleman). These romances on the decks are often quite conventional but the scale of the event gives every story an added drama.
As a side note, without commercials, this series is still shorter than James Cameron's Oscar-winning film of the same name.
Features commentary on episodes one on DVD. The Blu-ray edition also features a bonus disc with the documentary "The Curse of the Titanic Sisters," the featurettes "Titanic: Behind the Production," and six shorter making-of featurettes. There is also a three-disc Blu-ray+DVD set that simply combines both releases.