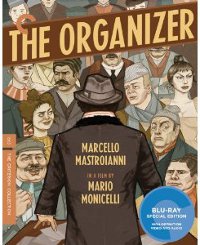 The Organizer (Criterion), a portrait of a labor walkout in a textile mill in late 19th Century Turin, is both a provocative portrait of social action and a rich, compassionate story of a community struggling to hold together to get the smallest of concessions from an employer that demands 14-hour days for a wage that keeps them all in poverty. The story of a labor strike among the socially tight but politically disorganized community to textile workers in a mill outside of Turin in the late 1800s, this is not a political statement nor a social protest. It is lively, funny, chaotic, appreciative of the foibles and failures of the frustrated collective that hasn't any faith in their power to effect change.
Marcello Mastroianni plays against type as a threadbare intellectual and labor activist whose idealism keeps running into reality. Warm, modest, passionate in his conviction and sincere in his actions, the Professor is an idealist with a practical side, whether he's rousing a deflated collective to hold out or scrounging for a meal. Even under a scraggly, unwashed beard and patchy clothes, he has an easy dignity and the comportment of a gentleman.
But while Mastroianni is the lead, he's also an outside to the rich community that director Mario Monicelli creates through the dynamic collection of characters and the density of physical detail, from the chilly, overcrowded homes (morning begins by chipping a layer of ice form the pitcher holding their washing water) to the thrum of rows upon rows of clattering looms in a suffocating, steam-powered factory. The seriousness of the drama is buoyed by wonderful comic streak running underneath, not as satire but as simply human comedy in a tough world. It only makes the tragic dimensions more resonant, right down to the resignation of the final image, while still holding out some hope for next time.
On Blu-ray and DVD, with a video introduction by director Mario Monicelli recorded in 2006, and a fold-out booklet with an essay by J. Hoberman.