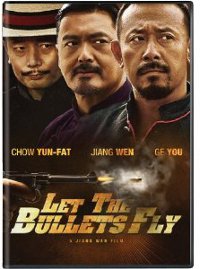 Let the Bullets Fly (Well Go), currently the highest-grossing Chinese film of all time, has a title that suggests shoot-outs and action galore, but in fact this slyly comic satire plays more like a spaghetti western in twenties-era China, full of bluffs and feints and false identities. Chow Yun-Fat has a blast playing a ruthless, wily crime boss who takes on a notorious desert bandit (Jiang Wen) posing as the new Governor with the help of the unreliable con-man of a counselor (Ge You). From there it turns into a combination Robin Hood story, revenge tale, and confidence game with three players constantly shifting alliances (and sometimes identities).
Director/star Jiang Wen has crafted a modern take on the wild Hong Kong action films of the eighties heyday, with all the energy, dotty humor, broad performances, and mad plot twists, and drops himself in the center as the eye of calm at the center of the chaos. It uses CGI about as convincingly as the old-school movies applies optical effects, just a little off and artificial, barely a step up from SyFy original movies, but always reaching for something unexpected. The rest is carried along by star power, crazed plotting, and wily schemes. Great? Perhaps not, but certainly great fun.
Blu-ray and DVD, with original Mandarin and English dub soundtracks and English subtitles. No supplements, but the Blu-ray edition features a bonus DVD. A collector's edition is also available with supplements, but was not provided for review.