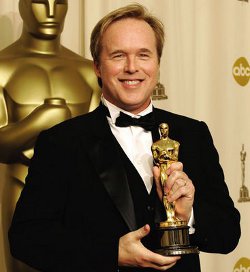 Mission: Impossible – Ghost Protocol (Paramount) is fun. It's that simple. The fourth film in the high-tech super spy series finds Tom Cruise's Agent Ethan Hunt a little older  and a little more mortal, scrambling to put together a rogue mission off the grid with a makeshift team, unreliable equipment, and no tech support. The set pieces are spectacular and the ingenious locations are like nothing we've seen in spy movies before, but a lot of the film's success can be attributed to the director: Oscar-winner animation director Brad Bird, making his live action debut.
Cruise showed a lot of faith in trusting a first-time live-action filmmaker with his blockbuster franchise and Bird came through with a clever, inventive, high-energy trip. While he had never directed a film like this, Bird was no stranger to big, complicated productions thanks to his days at Pixar, and more importantly, Bird had proved himself one of the best storytellers around, no matter the medium.
To mark the release of Mission: Impossible – Ghost Protocol on Blu-ray and DVD, Brad Bird took the time for a few brief phone interviews. Very brief, it turned out, for a filmmaker who has plenty to say about making films. As usual, we began by asking him what he's been watching.
What are you watching?
The last one I saw was actually a movie that I've seen several times before but I love it, which is "The Red Shoes," which is just a great, weird, fantastic movie. It came out on Criterion Blu-ray fairly recently and I just showed it to my sons, who had never seen it before. They've been prompting me to show them movies that I think are great, so every once in a while I'll get them in there and I'll show them "Yojimbo" or something that they would not normally see and they are loving it.
As an animation director, your involvement begins at the story level. When did you get involved in the process of developing "Mission: Impossible."
J.J. and Tom had been working with the writers, Josh Appelbaum and André Nemec, for almost a year on this script but the script was in happy flux when I showed up, meaning that I asked to see a script and J.J. kept dodging me and then finally I said, "Look, if I'm going to do this, I gotta see a script, " and he said, "Sure, I'll show you a script. Which one do you want to see? I have fifteen scripts and we just keep rewriting it and redoing it and throwing new ideas in there." He said, "It's probably better if I just pitch the movie and then we talk about set pieces and we can talk about where it's going because it's in constant flux." So I got sold the overarching idea of the story that Ethan Hunt is thrust together with a team, rather than a team he picks, and then that team is isolated. They had the ideas for the set pieces in but other than that, it was up for grabs, and some of the set pieces, like the car park thing at the end, they literally had a photo of a car park, a really unusual car park in, I think it was Germany, and they said, "He chases the bad guy and they have a fight in a car park." And that's literally what I had, so I got to really shape, shot by shot, what that car park would be: First they do this and then they kick the case under the car and then they do this. I got to basically riff on that very basic idea.