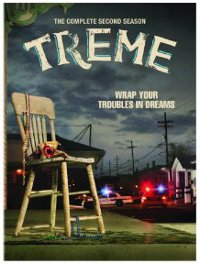 "Treme: The Complete Second Season" (HBO) continues exploring the lives of New Orleans residents trying to pick up the pieces in the wake of Hurricane Katrina, both at home and in New York. Where the first season was about defiance in the face of despair, the second season is in many ways about fatigue and frustration as the locals grow weary of bureaucratic roadblocks to rebuilding. Even the Second Line parades and Fat Tuesday celebrations are a pale reflection of the glory days, downsized versions of the city's signature cultural events. Where some see joy and defiant assertion of New Orleans' lifeblood, others see the city they loved disappearing. And yet the show still finds hope and optimism in the community and the music.
This is an ensemble piece and the stories are spread around a wealth of characters and experiences, but you could argue that the heart of the show belongs to Albert Lambreaux, played by "The Wire" veteran Clarke Peters, whose a fierce resolve to keep the Indian culture alive constantly collides with his jazz musician son. Wendell Pierce, another "The Wire" veteran, is just as central as jazzman Antoine Batiste, who tries to run his own band but finds his part-time job teaching a high school marching band unexpectedly rewarding, and Kim Dickens shows the heartbreak of broken dreams as a chef forced to close her restaurant and go to New York to make a living.
Melissa Leo's bulldog of an attorney Toni Bernette faces the rebellion of her teenage daughter (acting out in the wake of her father's suicide) while uncovering police misconduct during Katrina and Steve Zahn's community character and goofball activist Davis McAlary runs for office. Sort of. Khandi Alexander, Rob Brown, Michael Husman, and Lucia Macarelli co-star, David Morse becomes a regular member of the cast and Jon Seda joins the show as a real estate hustler.
11 episodes on four discs on Blu-ray and DVD, with commentary on four episodes with David Simon and various members of the cast and crew and music commentary on each episode, and the featurettes "Behind Treme: Food For Thought" (on the culture of New Orleans cuisine), "Behind Treme: Clarke Peters & the Mardi Gras Indians" (on the tradition of the Mardi Gras Indian in New Orleans), and "The Art of Treme," a Tulane University symposium featuring David Simon, Eric Overmyer and Clarke Peters.
The Blu-ray also offers the exclusive interactive viewing modes "Down in the Treme: A Look at the Music and Culture of New Orleans," which gives viewers an interface to look up details on the characters, music, cuisine and locations, and "The Music of Treme," which offers pop-up access to notes on the songs on the soundtrack as they appear.