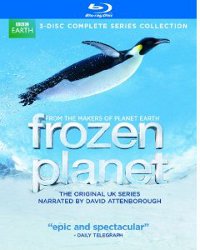 Sunday, April 22 is Earth Day and it's no surprise that two of the most high-profile natural history documentaries of the past year are scheduled for release this week. But marketing moves aside, these are both excellent productions and fine ways to remind us what we're trying to preserve.
"Frozen Planet" (BBC), from the creators of "Planet Earth," explores life in both the Arctic and Antarctic with the same high-definition photography and impressive wildlife views that have defined the best of the British natural history documentaries of the past decade. The show introduces us to the animals in the frozen deserts and seas and the seasons of these extreme climes, as well as the effects of global climate change on the habitat. "At first glance, Frozen Planet, the latest epic David Attenborough documentary series…, is nothing new: what it is, however, is brilliant," praises Telegraph TV critic Tom Chivers. "This was a masterpiece: may he continue to make many more." More reviews here. The series ran on BBC in Britain and Discovery in the U.S.
Seven episodes on Blu-ray and DVD, plus short "making of" featurettes for each episode and video diaries among the supplements. Three discs on Blu-ray and DVD.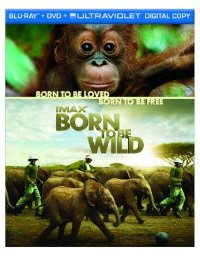 "Born to Be Wild" (Warner) is a more modest production, a 41-minute documentary on efforts to protect and preserve animals in the wild through the stories of two dedicated doctors: Dr. Biruté Mary Galdikas in Borneo and Dr. Daphne Sheldrick in Kenya. They both lead teams to rescue and raise orphaned animals while preparing them to survive in the wild as adults. We watch Galdikas with a delightful brood of baby orangutans and Sheldrick raising a baby elephant and, yes, this production is loaded with adorable animal antics, as well as majestic views of the wilds of Africa and Indonesia (the production was shot on large-gauge film for IMAX theaters) and the animals that live there. Morgan Freeman narrates. More reviews here.
The Blu-ray edition features five bonus "webisode" shorts plus a bonus DVD and Ultraviolet digital copy for instant streaming and download. Also available On Demand.
For more releases, see Hot Tips and Top Picks: DVDs, Blu-rays and streaming video for April 17