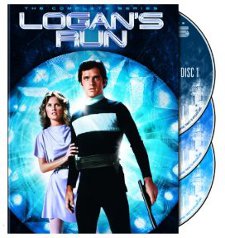 Logan's Run: The Complete Series (Warner) presents all 14 episodes of the short-lived TV spin-off of the quasi-cult seventies sci-fi film about a future where no one is allowed to live beyond thirty. Gregory Harrison takes the Michael York role as the one-time "Sandman" (that's future-speak for blindly-loyal cops who hunt those who try to escape the hermetically sealed world and their death sentence) who flees with a rebel (Heather Menzies) while his former partner (Randy Powell) hunts them down.
The series plays out as they wander a post-apocalyptic landscape that could have been cribbed from the Gene Roddenberry playbook. Every episode brings them into contact with another isolated human enclave (plus a few robots and aliens) with its own social world. They even have their own Spock in the form of Rem, an android fascinated with human emotion, played with a light amiability by Donald Moffat.
The run of 14 episodes includes three that were not initially broadcast in its network run. Three discs in a standard case with a hinged tray. No supplements.