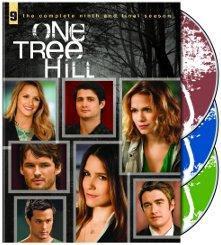 One Tree Hill: The Complete Ninth and Final Season(Warner) – All good things come to an end. And so does this nighttime soap, a longtime staple of the CW network that began as a high school sports and sex serial and aged into full-bore young adult melodrama.
Seriously, this is a show where the vicious Dan Scott (Paul Johansson), father of two teenage boys (one of whom he never really acknowledged), sabotaged both sons, murdered his own brother, survived prison and a psychotic nanny, and became a phony self-help guru among his many accomplishments. This season, Dan's son Nathan, one-time basketball phenom turned sports agent, is kidnapped by Russian mobsters (in their convenient Tree Hill satellite office) and Dan Scott continues his redemption tour by leading the commando raid to get him back. Just one of many crazy complications in their wild lives. (In a related disaster, the show's favorite sports nerd gets fat. Details at eleven.)
There are actually five members of the original first season cast still with the show after all these years, with the foundation still resting on Bethany Joy Lenz as Haley James Scott, Sophia Bush as Brooke Davis, and James Lafferty as Nathan Scott, all of them now married, raising kids, and struggling with one career after another. Plus there are return visits from other original cast members (including Chad Michael Murray as Nathan's half-brother Lucas and Craig Sheffer as Dan's dead brother Keith) and other one-time regulars (like Tyler Hilton as Chris Keller, the self-absorbed rock singer who speaks of himself in the third person) back to help see the show off.