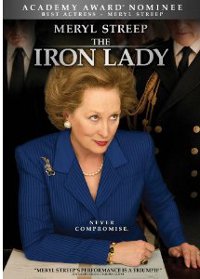 The Iron Lady (Anchor Bay), starring Meryl Streep as British Prime Minister Margaret Thatcher, earned the actress her 17th Oscar nomination and her third Academy Award for her transformative portrayal, giving her performance more dimension than the film does.
The film surveys her life, bookending her early career and her reign as the longest-serving British Prime Minister of the 20th Century with a peek into her fragile state in her present-day retirement, focusing on the personal over the political. MSN film critic Glenn Kenny puts it more bluntly, describing the film as "almost altogether bald in its desire that the viewer not think about Margaret Thatcher, or her ideas, or her actions, and pretty relentless in its efforts to squelch thought while promoting pity, empathy and a little dread."
"That the movie succeeds at all in doing the latter is almost entirely attributable to the acting work of Streep, who is remarkably precise, respectful and frequently quite witty in her portrayal." Jim Broadbent co-stars as her husband Denis, Alexandra Roach and Harry Lloyd play the young Margaret and Denis, and Olivia Colman, Roger Allam, and Iain Glen co-star.
On Blu-ray and DVD, with the 12-minute featurette "The Making of The Iron Lady" and four mini-featurettes ("Recreating the Young Margaret Thatcher," "Battle in the House of Commons," "Costume Design: Pearls and Power Suits," and "Denis: The Man Behind the Woman"). The Blu-ray Combo Pack also includes a bonus DVD and digital copy. Also available On Demand, and available at Rebox kiosks on both Blu-ray and DVD.