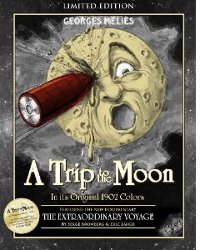 A Trip to the Moon: Limited Edition (Flicker Alley) features the home video debut of the painstakingly restored color version of the landmark George Méliès fantasy short, perhaps the most famous film made before "The Birth of a Nation" and (in the words of film historian and archivist Serge Bromberg) "the first international hit in motion picture history."
Yes, as we know, there was no color filmmaking until the twenties, and even then it was something between an experiment and a stunt until the more reliable and realistic three-strip Technicolor arrived in the thirties. But many early films were released in premium hand-painted versions. A Trip to the Moon, a lavish epic spectacle in its day, was one such film, but no surviving color versions were known to exist. Until 1999, when Serge Bromberg and Eric Lange were offered one brittle, badly decomposed, but almost intact print in a Spanish archive. The preservation and restoration, which began with a frame-by-frame digital copy of the crumbling print, took more than ten years, some of that simply waiting for technology and support. This is surely the most expensive, extensive, and ambitious restoration of any work of early cinema and its timing couldn't be better. Between the restoration debut at Cannes 2011 and the American Blu-ray/DVD release this week, Martin Scorsese's "Hugo" was released, a love letter to the fantastical visions of George Méliès and the magic of silent cinema.
Historical importance aside, A Trip to the Moon is a delight, a work of pure, playful imagination, a picture-book fantasy brought to life with intricate, hand-painted sets and a whimsical portrait of science as wizardry by way of the industrial revolution, and the then-revolutionary film effects perfected in his "trick films" are here incorporated into the storytelling. Méliès was the filmmaker as magician and showman. A Trip to the Moon showcases the best of all these dimensions, and it does so with the pulsating hand-painted colors of the day. The French pop duo Air contributes an offbeat original score.
As the film runs only 15 minutes (an epic for 1902), this release features the 65-minute documentary "The Extraordinary Voyage" by Serge Bromberg and Eric Lange, which profiles Méliès and the making of "A Trip to the Moon," the filmmaker's decline and rediscovery, and the unprecedented restoration process of this edition. Also features a B&W version of the film from a preserved 35mm print with a choice of three additional soundtracks, two additional astronomically-minde​d films by Méliès ("The Astronomer's Dream" from 1989 and "The Eclipse, or The Courtship of the Sun and the Moon" from 1907), and interview with Air.
This limited edition comes in a steelbook case with both Blu-ray and DVD editions of the film and supplements, and a beautifully illustrated booklet with an extensive essay on the film.