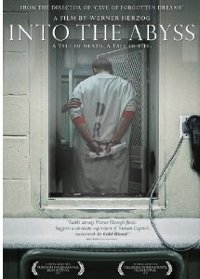 In the past couple of decades, German filmmaker Werner Herzog has become as famous for his provocative, curious, first-person documentaries as for his visionary fiction films. Into the Abyss (IFC) is one of his best and most provocative, an engagement with the death penalty in America through this profile of the human beings on both sides of a death penalty verdict in Texas.
Michael Perry, convicted of triple homicide in the course of a car theft, is clearly no innocent man and Herzog lays out the senseless brutality of the murders and the consequences of his actions through interviews with the friends and family members of the murder. His point isn't that this is some miscarriage of justice, but of acknowledging that Perry, who was 18 when he committed his crimes, is a human being, and as Herzog says early on, "I don't believe human beings should be executed."
Herzog uses police crime scene video and a police detective's commentary to reconstruct the crime but modestly shows no violence or dead bodies on screen, while a field of graves markers (with numbers only, no names on the crosses) and the remembrances of a prison pastor and a former state executioner illustrate the legacy of executed criminals.
It is also a devastating portrait of the culture of crime, drug and alcohol abuse, and broken families that Perry and his companions grew up in, and of the growth of Perry over his ten years on death row into an introspective, spiritual young man who acknowledges his debt (if not always his guilt). Herzog wants us to engage with the human beings on both sides of the crime and ask if this execution accomplishes anything for anyone.
Blu-ray and DVD, no supplements.