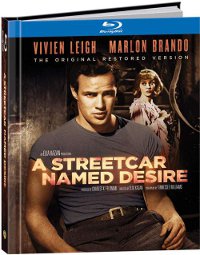 "A Streetcar Named Desire: The Original Restored Version" (Warner), Elia Kazan's big screen version of Tennessee Williams' play, is a Hollywood landmark, both for pushing the envelope of subject matter allowed on screen by the censors and for showcasing the more naturalistic "method" approach of performance that director Elia Kazan and actors Marlon Brando, Kim Stanley, and Karl Malden brought to the original Broadway production.
The film was controversial (the Legion of Decency pressured the studio to cut Kazan's original final release version by three minutes) and a sensation, earning twelve Academy Award nominations and taking home four Oscars, including Best Actress for Vivien Leigh as the deluded, wilted flower of the old South Blanche DuBois, Best Supporting Actress for Kim Hunter, and Best Supporting Actor for Karl Malden. But it was Elia Kazan's searing direction, which pushed the boundaries of screen sexuality and censorship, and Marlon Brando's primal, raw performance as working class husband Stanley Kowalski that made the film a sensation at the time and a vibrant work of art for the ages.
Kazan was sensitive to actors and performance in a way different than other Hollywood directors and Broadway transplants. "Streetcar" was Kazan's seventh film, but in many ways it redefined his Hollywood career.
The deleted scenes were rediscovered in the early 1990s and restored for a new release on theaters and on home video (when it was rated PG), and in 1999 the film was selected by the United States Library of Congress for preservation in the National Film Registry.
The Blu-ray debut features the restored version, along with the supplements of the earlier DVD special edition release, including commentary by Karl Malden and film historian Rudy Behlmer, the feature-length documentary "Elia Kazan: A Director's Journey," five featurettes, outtakes, and Marlon Brando's screen test.