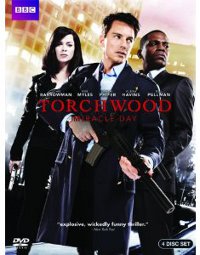 Torchwood: Miracle Day (BBC) – The spin-off of the Russell T. Davies "Doctor Who" reboot (note the title is an anagram of the original series) began life as a lively British show for a more adult science fiction audience. More recently, however, it has become darker and more novelistic. In place of seasons, it has turned out separate mini-series of self-contained stories with continuing characters, and its most recent incarnation sends the last surviving members of the Torchwood team — Captain Jack Harkness (John Barrowman) and Gwen Cooper (Eve Myles) — to the United States to track the "miracle" of the title.
One day, people suddenly stop dying, and it very quickly transforms from miracle to curse, as the diseased, the dying, the critically injured, and others are forced to endure the pain of living through death. In fact, the only person left mortal is the formerly immortal Captain Jack. Mekhi Phifer and Alexa Havins play American agents who team up with the Torchwood duo when they discover that the conspiracy reaches into the upper echelon of American Intelligence.
The ten-episode series, co-produced by the BBC and the Starz Channel, which broadcast the show stateside, is a superb story with some brilliant turns and some very pessimistic predictions of how the world faces a health crisis of overwhelming dimension, but it also feels stretched out beyond its natural length. It would pack more punch at a swifter, tighter six episodes. Given that, it is still some of the most daring science fiction on TV. Bill Pullman and Lauren Ambrose guest star in vivid roles (he's a murderer on Death Row when such a thing no longer has meaning, she's in image management and signs on to the highest bidder) and familiar genre faces such as Wayne Knight, Dichen Lachman, Nana Visitor, and John de Lancie make appearances.
On Blu-ray and DVD, with commentary, deleted scenes, character profiles, featurettes and a motion comic.