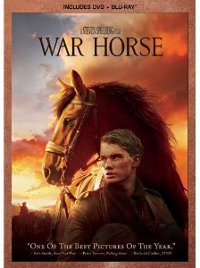 War Horse (Fox), Steven Spielberg's World War I drama seen through the journey of a horse conscripted for labor on the front lines, features some of the most powerful and beautiful moments seen on the screen in 2011.
It also features some of the most maudlin and unsubtle scenes of year, which is such a disappointment coming from a director I still consider one of the greatest American filmmakers of the last few decades.
Based on Michael Morpurgo's book (which also spawned a successful stage production), and adapted for the screen by British writers Richard Curtis ("Four Weddings and a Funeral") and Lee Hall ("Billy Elliot"), it melds the boy-and-his-horse drama (with Jeremy Irvine as the country lad who loves his horse) with a panoramic view of the horrors of warfare in the first modern war from both sides of the trench.
In some moments along the journey, the harmony of Spielberg's storytelling (from the delicacy of his imagery to his palpable empathy for the characters onscreen) is so moving and expressive that the rest of the film (even the rest of the world) melts away for that duration. In others, the film stumbles over hamfisted melodrama and insistent, overworked imagery.