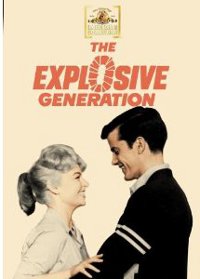 The Explosive Generation (MGM Limited Edition Collection) may look like another low-budget teensploitation picture from the drive-in age, and sure, it is a cheap picture churned out with a minimum of fuss and style. But the explosive content of this high school picture is sex education, which is added to the curriculum at the request of an honors class of senior class students and sets off a firestorm among the parents, leaving our idealistic, progressive young teacher caught between his principles and his principal. Said teacher, I should add, is played by William Shatner. It's his second film and his first leading role, before his soon-to-be trademark intensity took over. There's plenty of speechifying and contrived injections of hep dialogue ("Crazy, man!") and Buzz Kulick's direction is never more than functional (and often not even that), but give the film credit for treating teenagers as intelligent, thoughtful young adults who are inspired to pull together to stand up for their education and their free speech rights. Their inspired non-violent protest is a weirdly mesmerizing tribute to youth solidarity, a precursor to the counterculture cinema of the late 1960s in clean-cut fifties garb. And that Shatner guy isn't too bad either.
Timbuktu (MGM Limited Edition Collection) – Jacques Tourneur may be one of the most underrated directors of his time, from horror classics "Cat People," "I Walked With a Zombie" and "Curse of the Demon" to his noir masterpieces "Out of the Past" and "Nightfall" to some of the greatest films of the American frontier, "Stars in My Crown" and "Canyon Passage." So it's with some disappointment I watch his talent fall off in his late career. A few months ago it was "The Fearmakers," and now comes Timbuktu, a pure B-movie potboiler French Foreign Legion film from the late 1950s that plays like a cavalry matinee picture. This one, moved up to World War II but still engaged with an Arab uprising in French colonial Africa, stars Victor Mature as an American gunrunner without political allegiance but with a code of sorts. Yvonne De Carlo plays the neglected wife of a duty-first French Colonel (George Dolenz) who apparently has no qualms about sending his wife to make love to the mercenary Mature, a man only too happy to play along as he plays double agent between the warring factions. A game of bluffs and feints and psychological warfare ensues, but Tourneur never makes anything more of it than a juvenile form of big screen pulp, from John Dehner as the least convincing Arab Emir in the movies down to Mature as the griming mercenary with a conscience. Silly stuff, but De Carlo is quite the honey.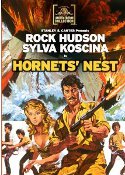 Hornet's Nest (MGM Limited Edition Collection), a grim 1970 World War II mission thriller with Rock Hudson and a cast of Italian kids playing soldier, is essentially a bloody Italian war drama by way of an American exploitation picture. Phil Karlson, one of the great director of bare-knuckle film noir, is behind the camera at least part of the time. The Italian prints apparently list Franco Cirino as director (he's credited at First Assistant Director here) and the production is dominated by Italian names (including a score by Ennio Morricone). Karlson's direction became more blunt in his later years but even so, the cynicism and brutality is more Italian exploitation sensibility than American drive-in branding, with the kids going all "Lord of the Flies" on both the German invaders occupying their village and any civilian (or even ally) who stands in the way of their vengeance. Hudson brings a groovy seventies mustache and haircut to forties Italy (maybe one those kids was inspired by his style to become Vidal Sassoon) while trying to play military father to these teenage guerrillas. Regardless of Karlson's commitment in front of the camera, it feels like it was edited on the Italian industry assembly line.
Read on for more manufacture on demand releases at Videodrone