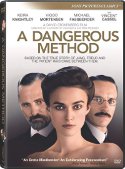 New Releases:
"A Dangerous Method" (Sony) was overlooked at Oscar time but David Cronenberg's superb screen version of Christopher Hampton's play about the friendship and eventual split between Sigmund Freud and Carl Jung is a sharp, lucid, perceptive film about the rational and irrational sides of human behavior. Michael Fassbender and Keira Knightly centre the film as Jung and Sabina Spielrein, his patient, protégé, and lover, and Viggo Mortensen is magnificent as Sigmund Freud. Blu-ray, DVD and digital download, available at Redbox. Videodrone's review is here.
"Extremely Loud and Incredibly Close" (Warner), on the other hand, based on the 9-11 novel by Jonathan Safran Foer, picked up nominations for Best Feature and Best Supporting Actor (Max Von Sydow) despite mixed reviews (though MSN critic James Rocchi finds much to like about the film). And "Alvin and the Chipmunks: Chipwrecked" (Fox), the third film in the CGI family film series, wasn't even considered for the animation category but did just fin in theaters. Both on Blu-ray, DVD and digital download.
Angelina Jolie makes her directorial debut with "In The Land of Blood and Honey" (Sony), a drama of love and survival set against the Bosnian War. Blu-ray+DVD Combo Pack, digital download and On Demand, available at Redbox. James Franco makes his feature debut directing "The Broken Tower" (eOne), in which he also stars as American poet Hart Crane. DVD only.
And from Francs comes "The Heir Apparent: Largo Winch" (Music Box), a corporate thriller with Tomer Sisley and Kristin Scott Thomas, and "Romantics Anonymous" (Tribeca), a comedy of romance conducted through chocolate. Both DVD only.
Browse the complete New Release Rack here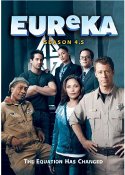 TV on Disc:
"Eureka: Season 4.5" (Universal) – The whimsical SyFy original series about a secret government think-tank town gears up for a mission in space for the second half of its fourth season, but fear not: the grueling testing and training regimen provides for plenty of scientific disasters in need of solving. 10 regular season episodes, plus the Christmas special and the "Warehouse 13" crossover, on three discs.  DVD only.Videodrone's review is here.
"I, Claudius: 35th Anniversary Edition" (Acorn) is a new edition of the landmark BBC miniseries on a five-disc set with supplements. "South Park: The Complete Fifteenth Season" (Paramount) features 14 more episodes of the kids show for adults. DVD only.
Also new are "Murder Investigation Team: Series Two" (Acorn) and "Single-Handed: Set 2" (Acorn) from Britain. DVD only.
Flip through the TV on Disc Channel Guide here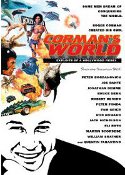 Cool, Classic and Cult:
"Corman's World: Exploits of a Hollywood Rebel" (Anchor Bay) profiles Roger Corman, the legendary director and producer who helped launch the careers of some of the greatest actors and filmmakers of the last five decades, and a lot of them show up to pay tribute to the him in Alex Stapleton affectionate documentary. Blu-ray and DVD.Videodrone's review is here.
"David Lean Directs Noel Coward" (Criterion) features beautifully mastered editions of the first four features directed by David Lean–"In Which We Serve" (1942), "This Happy Breed" (1944), "Blithe Spirit" (1945), and "Brief Encounter" (1945)–all of them made in partnership with author/producer Noel Coward. Blu-ray and DVD. Reviewed on Videodrone here.
"A Night to Remember" (Criterion), the 1958 Titanic drama from Britain, is remastered for Blu-ray and DVD just in time for Cameron's 3D theatrical release.
Also debuting on DVD this week: George Stevens' "Something to Live For" (Olive) with Joan Fontaine and Ray Milland, "No Man of Her Own" (Olive) with Barbara Stanwyck, "Assault on a Queen" (Olive) and "Come Blow Your Horn" (Olive) with Frank Sinatra, and the box set "Mystery Science Theater 3000: XXIII" (Shout! Factory).
All of the Cool, Classic and Cult here

Blu-ray Debuts:
One thing I know is this: "Casablanca: 70th Anniversary Edition" (Warner) is a beauty of a special edition. The 3-Disc Blu-ray+DVD Combo set features a newly remastered edition of the beloved American classic and two new documentaries plus all the supplements of the previous special editions (and there have been many). Videodrone's review is here, along with a clip from the supplements.
"The Bodyguard" (Warner), starring Whitney Houston in her film debut, arrives on Blu-ray as a memorial.
Also new: "Strip Nude For You Killer" (Blue Underground) and "Thou Shalt Not Kill… Except" (Synapse), a pair of films for the cult fans of the horror movie crowd, and a new release of "The BBC High Definition Natural History Collection" (BBC).
Peruse all the new Blu-rays here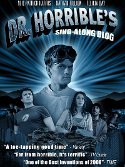 New on Netflix Instant:
Never seen Joss Whedon's "Dr. Horrible's Sing-Along Blog" (2008), a superhero musical made for the web with Neil Patrick Harris as an aspiring supervillain and Nathan Fillion as an arrogant hero? Invest 45 minutes into this clever, tongue-in-cheek piece.
Kristin Scott Thomas stars in "Sarah's Key" (Anchor Bay), a World War II mystery based on Tatiana de Rosnay's novel of the Holocaust, the occupation of France and the collaboration. And from 1990 comes "Internal Affairs" (1990), with Richard Gere at his best as a corrupt cop.
Recently released on DVD: "The Music Never Stopped" (2010) with J.K. Simmons and Lou Taylor Pucci, "This Is Not a Movie" (2011), a schizophrenic end-of-the-world movie with Edward Furlong and Peter Coyote, and "Killing Bono" (2011), based on a true story about a Dublin musician who turned down a chance to join U2.
Browse more Instant offerings here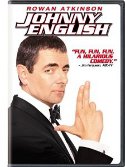 Available from Redbox this week:
Day and date with video stores: "A Dangerous Method" (Sony) and "In the Land of Blood and Honey" (Sony). See New Releases above.
Also arriving in Redbox kiosks this week: "Johnny English" (Universal) brings back Rowan Atkinson as the world's least competent international spy for a PG-rated comedy
And a pair of flashback releases: "American Pie" (Universal), the 1999 revival of the seventies high school sex comedy with a much more progressive attitude between the jokes, and "Role Models"  (Universal), with rising comedy star Paul Rudd and "American Pie" alumnus Seann William Scott as absurdly inappropriate candidates for the Big Brother program.