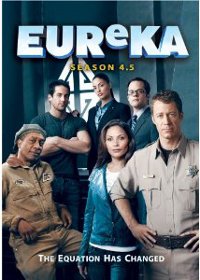 "Eureka: Season 4.5" (Universal) – The whimsical SyFy original series about a secret government think-tank town start the second half of its fourth season back in the present but in a parallel timeline, thanks to a time travel mishap, before launching two characters into space with an unplanned lift-off and an unexpected reboot to the American space program, thanks to Eureka-developed technology. The rest of the season is space camp, Eureka style, with training, tests, and a healthy competitive spirit as they all vie for the 20 spots on the mission. Next stop: Titan. (That's one of the moons of Jupiter, in case you're not as astronomically well informed as the characters of the show.) Fear not: the grueling testing and training regimen provides for plenty of scientific disasters in need of solving.
The cast continues to expand along with the show's alternate timelines, and this half-season brings in Felicia Day as a consulting scientist on the mission to Titan, Wil Wheaton as an arrogant young physicist, and Ming-Na as a science-savvy Senator, all as continuing characters through the story arc, brings back Matt Frewer (and his overworked Aussie accent) and Deborah Fiorentino (who is, of course, up to no good) for a few episodes, and welcomes guest star Wallace Shawn as psychiatrist for employee evaluations.
10 regular season episodes, plus the 2010 Christmas special (with guest star Chris Parnell as the physicist who may be Santa Claua) and the "Warehouse 13" crossover, on three discs.  DVD only.