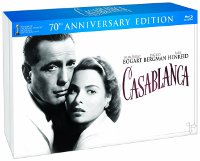 "You must remember this /a kiss is still a kiss / a sigh is just a sigh."
"Play it, Sam."
"We'll always have Paris."
"Here's looking at you, kid."
"I think this is the beginning of beautiful friendship."
Is there a more memorable, more quotable, more quintessential Hollywood movie?
The winner of three Oscars in 1943, including Best Picture, Casablanca placed second in the AFI's poll to find the Best American Film of all time over 50 years later and is still one of the most beloved and popular Hollywood classics of all time. It is timeless and it celebrates its 70th Anniversary with a new deluxe edition.
Humphrey Bogart proves that looks aren't everything as the cinema's most romantic existential hero and Ingrid Bergman is a vision of soft-focus loveliness as the emotionally wounded heroine. And they're just the tip of this iceberg of Hollywood's most supreme achievement in character casting: Paul Henreid, Claude Rains, Conrad Veidt, Dooley Wilson, Sydney Greenstreet, and Peter Lorre are among the iconic faces in the exotic crowd. Michael Curtiz, the top director at Warner Bros. and one of the most versatile of his era, brings it all together with such perfection that it casts a spell across the decades. If you've seen it, you don't need any more encouragement from me. If you haven't seen it… why not?
It's been on DVD and Blu-ray in special editions before. For the 70th Anniversary, Warner has remastered the film in a 4K scan (theatrical big screen quality) for a three-disc deluxe Blu-ray+DVD Combo edition filled with superb supplements and a few less-essential collectables.