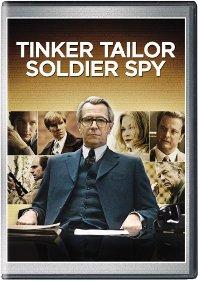 "There is a mole right at the top of British Intelligence. He's been there for years…"
Tinker Tailor Soldier Spy (Universal) earned Oscar nominations for Gary Oldman, whose performance as John Le Carre's career intelligence agent George Smiley is a guarded and wary as anything you've seen, and for the screenplay adaptation, and should have picked up nominations for Best Picture and Best Director.
Thomas Alfredson, the Swedish director of the original "Let The Right One In," brings a chilly control to the film, which is as much about isolation and loneliness as it is about spycraft. And while the film has been criticized for being hard to follow, with all the complicated twist and turns of the investigation condensed into a single feature-length film (the previous adaptation unfolded over a five-hour TV mini-series), it misses the real story here: the experience of men (there are practically no women in the intelligence circus, at least not at the level that these men play at) living a life under constant surveillance and the threat of betrayal, where trust is a luxury you can't afford.