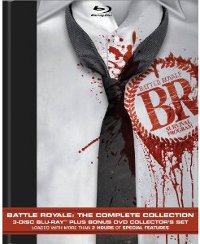 Battle Royale (Anchor Bay), the gleefully gruesome splatter satire of teenage nihilism, adult paranoia, and social sadism, was released in Japan in 2000 to big success and instant cult status. It was a 21st century version of a fifties youth gang drama, rooted in the adult panic at the sudden rise of youth violence in Japanese society, but was too close to the real-life events of Columbine High School for American tastes. Now, with The Hunger Games arriving in theaters on March 23, this high-school-kids-fig​ht-to-the-death thriller it finally gets its American debut.
Directed by Kinji Fukasaku, the madman of Japanese yakuza cinema, from a novel by Koushun Takami, you could call it "Rebel Without a Chance": a wicked social satire that blends "Lord of the Flies," "Massacre at Central High," Peter Watkins social commentary, Japanese manga, and nihilistic video game. Beat Takeshi takes on the adult role, a bullied high schoolteacher who takes his revenge by overseeing the bout between his own 9th grade class, and takes a little too much pleasure in demonstrating the effectiveness off the bombs strapped to their necks.
This film's similarities to The Hunger Games, which plays the gladiator games as a form of punishment, repression, and control by a tyrannical dictator, begins and ends with the premise. This savage social satire revels in the brutality and gore and plays it for dark comedy and gallows humor, a teen melodrama gone feral, and it's now a good bet for cult status stateside as well.