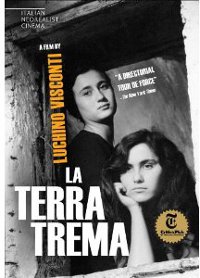 It's an Italian film festival on home video this week, with the DVD debuts of six features from the fifties through the seventies, including three films by Italian master Luchino Visconti.
La Terra Trema (eOne), Luchino Visconti's second film, is a neo-realist epic of family, community, and poverty in Sicily's fishing community. The story revolves around one young man who returns from the war with ambitions to free to impoverished fisherfolk from the yolk of wholesalers who set prices and rake in the profits. Shooting on location in a small Sicilian fishing village, Visconti cast Sicilian locals and used the texture of their real lives to give the film a documentary feel, while his own eye for images and operatic sense of drama provided the poetry. It's been on DVD before and this is edition is hardly an improvement, with a soft image and weak contrasts. Italian with English subtitles, no supplements. More details from Gary Tooze at DVD Beaver.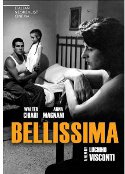 Bellissima (eOne), starring Anna Magnani as a would-be stage mother pushing her young daughter into the movies, has the look of a satire of show business dreams, but the desperation behind the dreams and the backdrop of everyday poverty and hustling to survive the hard times of 1951 Rome makes it more painfully wry than humorous. Visconti conducts it like a boisterous symphony of working class voices competing for attention (it verges on parody at times) and Magnani gives a hearty, earthy, full-bodied performance as the most insistent voice breaking out of the chorus. She can be maddening, her will and her fantasies riding roughshod over good sense, but she is so alive and impassioned that you have to respect her determination and her love. The disc is adequate, offering what looks to be an old, pre-HD digital master with video grain and pixilated images. In Italian with English subtitles, no supplements.
Then jump ahead decades to his penultimate film Conversation Piece (Gruppo di famiglia in un interno) (Raro) from 1974, starring Burt Lancaster as a retired American professor who rents an apartment in his palazzo to a vulgar Italian marchesa (Silvana Mangano) and her companions, who throw his sedate existence into turmoil. In Italian with English subtitles, with an interview with film critic and screenwriter Alessandro Benccivenni and a booklet with a critical essay by film critic Mark Rappaport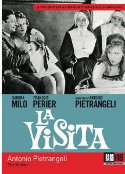 The discovery of this collection is La Visita ("The Visitor") (Raro), a bittersweet romantic drama with Sandra Milo as a lonely profession in a northern Italian village and Francois Perier as a suitor from Rome who answers her personal ad. It begins as a satirical, almost cartoonish look at an awkward date surrounded by a cast of eccentric rural types but behind the desperation and anxiety and arrogant machismo are lonely souls with unfulfilling lives (glimpsed in a succession of flashbacks). Milo (who practically waddles thanks to the generous padding of her exaggerated derriere) is especially lovely as a confident professional who becomes unnaturally placating to a man that does little to earn her sacrifice. Italian with English subtitles, with video interviews with screenwriter (and future director) Ettore Scola, composer Armando Trovajoli, and Paolo Pietrangeli (son of director Antonio Pietrangeli) and pdf booklet accessible by DVD-ROM.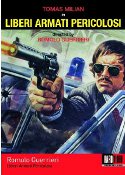 Young, Violent, Dangerous (Raro), a seventies thriller about wild youth on a crime spree that leaves a trail of corpses in its wake, is not the most subtle or inspired of social commentaries of youth culture, but it certainly is nihilistic. Tomas Milian and Eleonora Giorgi get top billing, as the police commissioner on their trail and the girlfriend grabbed as a hostage by the smiling blonde psychopath (Stefano Patrizi) leading the charge. There's no motivation, which is part of what makes it such a distinctly seventies vision of post-sixties protest gone sour as "good boys" from respectable familes go rabid. Italian with English subtitles. The disc is non-anamorphic widescreen and looks slightly horizontally stretched and includes the interview featurette "Ragazzi Fuore" with director Romolo Guerrieri, a director filmography and bio, and a pdf booklet accessible by DVD-ROM.
Continue reading for more releases and reviews on Videodrone