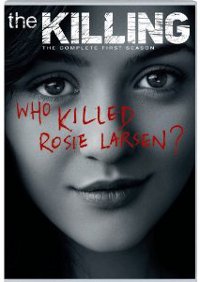 The Killing: Season One (Fox), the American remake of the hit Danish police detective series "Forbrydelsen," relocates the dark murder mystery from the gloomy winter of Denmark to the rainy Pacific Northwest clime of Seattle, where a veteran homicide cop (Mireille Enos) on what is to be her last day on the job is assigned a case — the murder of a high school girl — that becomes all-consuming.
Enos is a very different kind of cop than we usually see on TV. Neither smart aleck nor neurotically brilliant, she's a workaday detective with a tendency to get too personally involved, and this case gets to her. And Michelle Forbes is devastating as the mother whose grief slips into crippling depression in the wake of her daughter's death. On the other hand, Joel Kinnaman (a Swedish import overworking a street-smart drawl of indeterminate origin) stumbles along as a rookie detective cliché, both overreaching and eagerly looking for affirmation from his emotionally distant partner.
New York Times TV critic Alessandra Stanley wrote that "it almost seems like a perfectly dubbed foreign-language film. … There have been plenty of dark, cheerless murder mysteries on television. "The Killing" is as bleak and oppressive as any, but it's so well told that it's almost heartening." But that was written early in the show's run, before it started circling around its story and frustrated American viewers by holding out the promise of a solution by the end of the season (which the original Danish series provided) and then withholding it, going into hiatus for nine months without closure.
At its best, it's a show that observes the ripples of murder through the loved ones and survivors in addition to the investigators and suspects. At its worst, it slips into clichés of sloppy detective work and jumping to conclusions on dubious evidence. And, speaking as a Seattlite, it is yet another series set in Seattle and shot north of border in Vancouver, but at least this production is filled with evocative establishing shots from the actual city, second unit footage from a cameraman with a good eye of beautifully ominous imagery.
13 episodes on four discs on DVD and three discs on Blu-ray, both with an extended cut of the season finale, commentary on the pilot and season finale, deleted scenes, and the featurette "An Autopsy of a Killing."
The second season begins April 1 on AMC.
For more releases, see Hot Tips and Top Picks: DVDs, Blu-rays and streaming video for March 13