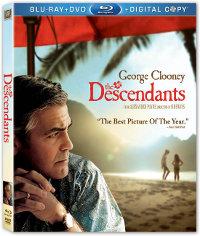 The Descendants (Fox), directed by Alexander Payne and starring George Clooney, is hands down one of the best and most human films of 2011.
George Clooney gives one of his richest performances as "the back-up parent" attempting to hold his family together as his wife slips away in a coma, and he came away with a well deserved Oscar nomination, and Shailene Woodley (of the ABC Family Channel young adult drama "He Secret Life of the American Teenager") holds her own as the angry teenage daughter acting out for reasons her father can't guess at. He's a lawyer and father raising two girls in Hawaii, where his family goes back generations, and as he faces the death of his wife, he takes a hard look at what family and his island legacy really means. For a film that turns on a death, it is full of life and joy and acceptance.
It was nominated for five Academy Awards and won the Oscar for Best Adapted Screenplay (Payne in collaboration with Nat Faxon and Jim Rash), but, even more prestigiously, is one of MSN's top films of the year, as chosen in the MSN critics poll.