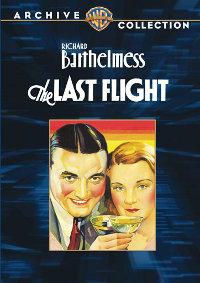 A month ago I covered a collection of pre-code movies released through the Warner Archive Collection, 11 early sound films of varying quality and pleasure that all, in their own way, had a little audacity to them.
Those releases found an appreciative audience, apparently, if the Warner Archive Facebook page and Tumblr blog  and Warner has continued mining their library of pre-1933 movies, the year the production code went into effect and started censoring Hollywood films in earnest. Here are the most interesting films I've been watching from this batch, plus one released in 2010 that I just caught up with and adds another dimension to the pre-code sensibility.
That earlier release is The Last Flight (Warner Archive), Hollywood's 1931 "lost generation" film, the story of four World War I fliers discharged after being shot down and injured. They are "spent bullets," as one officer calls them with some sympathy, unfit for service but unprepared to reenter society. Richard Barthelmess and David Manners headline this one as buddies who survive being shot down but they are too damaged (emotionally and physically) to go back home, so they live it up in Europe as if there was no tomorrow, drifting from one party and nightclub to another and, in turn, hitting in Nikki (Helen Chandler), a guileless rich girl who takes an interest in looking after these broken, directionless men. Hollywood never managed to get Hemingway or Fitzgerald right in this era, but this film takes a respectable run at the same themes in the Hollywood vernacular: high society meets classic Warner street smarts as four Americans in Paris resort to witty repartee and hard-drinking antics to hide haunted souls. Barthelmess was one of the best of the era's heroes, earnest and intent but guarded, and he had a coiled-up presence that suggested a man fighting to keep himself together while the rest of the world let go, and Helen Chandler is enchanting as the dizzy yet genuine rich girl who finds some purpose in a rudderless existence when she adopts these men. She comes off as a jazz age Carole Lombard, an uninhibited screwball beauty as reimagined by F. Scott Fitzgerald.
Continue reading on Videodrone.