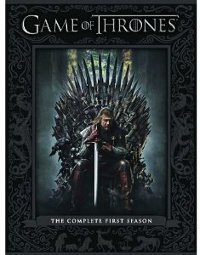 Game of Thrones: The Complete First Season (HBO) – Pay cable is always looking for the next buzz show, a series that gets people talking, watching and subscribing. "Game of Thrones," the epic fantasy set in a medieval world of warring kingdoms, cutthroat royal families, barbarians, dragons, and some undefined evil kept at bay (at least up until now) behind a massive wall taller than a skyscraper, is such a show.
Based on the ongoing fantasy series by George R. R. Martin and faithfully adapted for the small screen with big screen production values, the shows offers a vast canvas of characters, stories, and landscapes. Sean Bean is the ostensible hero of this first series as Eddard Stark, ruler of the northern kingdom and the Hand of the King (Mark Addy), a once fearsome warrior married to a ruthlessly ambitious queen (Lena Headey) who plots to put her clan on the throne and eliminate Stark.
But that's just the broadest strokes of a very complicated story with where family dynasties plot their way to power through marriages, war, and political gamesmanship, and an exiled princess (Emilia Clarke) unites the barbarian hordes of a land across the water to take back her family legacy. And it doesn't begin to trace the equally compelling story of Tyrion Lannister, the debauched "black sheep" of the ruling family played by Peter Dinklage (who won an Emmy for his performance). Like a medieval answer to "I, Claudius," he's a dwarf with a sharp mind and a fierce understanding of the ways of power that he hides under his court jester antics. It's a form of protection as well as escape; he's not perceived as a threat.
This could be a fanciful take on Europe of the Dark Ages but for the echoes of supernatural forces massing outside of the borders. The casting is superb, the production looks amazing, like a medieval epic shrouded in the shadow of a winter storm, and the writing is intelligent and always surprising. Like so many HBO shows, it takes its time unfolding its story and doesn't follow the expectations of TV storytelling (major characters are constantly sacrificed to the ruthlessness of the story), but it casts its spell from the opening scenes.