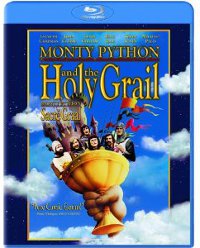 Monty Python and the Holy Grail (Sony) is the first real feature and arguably the definitive film comedy from the legendary comedy team. Banging coconut shells across the misty English countryside, Arthur and a band of dotty knights run afoul of abusive Frenchmen, sex-crazed nuns, the mysterious Knights Who Say "Nih!," and philosophical conundrums. You know, the usual dangers that medieval heroes face on holy quests. It's surely the cheapest Arthurian adventure ever made (heck, they couldn't even afford horses!) and easily the funniest, and its been released numerous special editions on DVD.
Now it gets the Blu-ray treatment in an impressive edition with all the goodies of the previous DVD special editions plus some new supplements. The original film was low budget and scruffy, with grimy, drab visuals still look like a big budget TV show that's been a bit underlit, but these are the dark ages and the models and the English countryside look suitably earthy, muddy, and medieval. This edition gives it a sharper look and a greater visual clarity. Carried over from previous releases are the commentary tracks (one production-focused track by Terry Gilliam and Terry Jones, and other with general complaints and back-biting by John Cleese, Eric Idle and Michael Palin), featurettes ("The Quest for the Holy Grail Locations" hosted by Michael Palin and Terry Jones, the 18-minute 1974 BBC report "On Location with The Pythons," "How To Use Your Coconuts"), three sing-alongs, clips from the film in Japanese with English subtitles, and the all-interlocking "Monty Python and the Holy Grail In Lego."
Exclusive to this edition is: "Lost Animations," a 12-minute collection of animated bits prepared for the film that unused, with an introduction by Terry Gilliam; nearly 20 minutes if outtakes and extended scenes with an introduction by Terry Jones, and BDLive accessible Second Screen Experience (which requires an iPad, a downloadable app and a connection to the same WiFi network as the Blu-ray player), plus an Ultraviolet digital copy, for download and instant streaming.