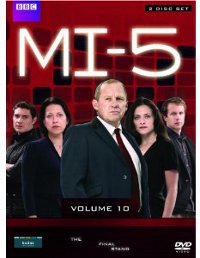 MI-5: Volume 10 (BBC) brings the long-running British series of domestic agents, foreign threats, and geopolitical gamesmanship to a close, with Peter Firth's Harry Pierce, once the show's bulldog of a boss in the background, now the central player in an intelligence game that is more about politics and gamesmanship than terrorist plots and acts of violence.
The stakes are as high as ever: on a personal level, Harry faces a secret from his past and the son he's been protecting without ever meeting, and on a global level there is the usual threat to British security and global peace via a complex plot with layers of double agents and lies going back decades, all of them intimately intertwined with Harry. He's still a superb character, the unflinching patriot increasingly burdened by the toll his job has taken in fallen colleagues and lost chances at happiness, and Ruth Evershed (Nicola Walker) is given her best season yet, but the rest of the crew (most of them still rookies by the show's measure) have nominal personalities and identities. The formula is tired and, after all these years of breathless adventures, it's past retirement age. The finale isn't so much satisfying as fitting, but I still feel a little cheated by it all after an investment of so many seasons. Alice Krige is a standout this season as a Russian who was once a double agent run by Harry and now is tied to a threat from Harry's past.
DVD only. Six episodes on two discs, with the featurettes "Harry's Game" and "Top Ten MI-5 Moments" (and those at the bottom of the countdown are reminders at just how good the show was in its first few years).