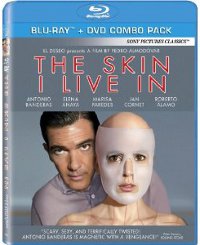 In The Skin I Live In (Sony), Pedro Almodóvar pushes his themes of identity and obsession into the realm of horror, a radical rethink of Hitchcock's Vertigo by way of Eyes Without a Face with Antonio Banderas as the mad scientist and Elena Anya as his unwilling patient. What exactly is at stake, however, and shy this beautiful, apparently flawless woman in a flesh-colored bodystocking is being held prisoner in a private laboratory is one of the unsettling surprises of the journey, which bounces back and forth through time to wind us around tragedies and torments and one man's spiral into a disturbed darkness.
"It's pretty much impossible to discuss its themes without revealing a lot of those plot points," agrees MSN film critic Glenn Kenny, "and I really do believe the viewer needs to experience them directly in order for the film to do its work properly. Now, these themes are pretty familiar in Almodóvar's work, but it's the force and passion and sheer anger with which they're introduced and subsequently addressed that gives the film a good deal of its power. "
And there's a lot of power here: grief simmering into anger and vengeance, loyalty twisted into complicity, entitlement and arrogance punished beyond imagination, and identity assaulted and violated. Almodóvar directs it more like a psychological thriller than a horror film, in part because the gore is largely off screen but mostly because the violation of the flesh is inextricably wound up in the assault on identity. Leave it to Almodóvar to craft a mystery that takes us to such dark places while remaining so sensitive to the human equation.
Continue  reading and see a trailer for the film at Videodrone.