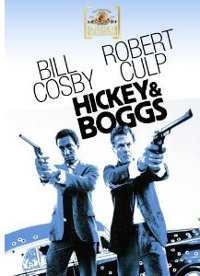 Hickey and Boggs (MGM Limited Edition Collection) from 1972 reunites former "I Spy" partners Bill Cosby and Robert Culp as down-out-heels private detectives in Los Angeles. Directed by Culp from a script by Walter Hill, it's very much a scrappy early draft of the buddy action films that Hill would later direct, but in the key of seventies grit and cynicism. One is separated, the other divorced and unable to get over it, but both of them hang on to the last gasp of Raymond Chandler-esque dignity and professionalism even as they get taken by their clients and harassed by the cops at every turn. Culp is a director in the Don Siegel mode, just as focused on process and professionalism and refreshingly straightforward in both dialogue and action. He understands these characters, he likes them, and while he may not agree with them, he definitely respects their doggedness (though not the self-pity). Success may not satisfying, given all they lose along the way, but they earn it out of sheer perseverance and loyalty. The last men standing get the spoils. It is nice to finally see this film on DVD and in its correct aspect ratio.
Humphrey Bogart stars in a couple of recent Warner Archive releases, neither of them among his best. But hey, it's Bogie and that alone has my interest. You Can't Get Away With Murder (Warner Archive), from 1939, is a late gangster film with Bogart in a rare pre-1941 leading role (when he became a star after the double-shot of High Sierra and The Maltese Falcon). At the time, he was mostly playing criminals and second bananas, secondary roles to the heroes and featured villains, and while he gets top billing here, he's no hero but a cold-blooded thug who lets an innocent man take the rap for a murder and then keeps the pressure on his patsy when he's sent up for robbery with a reluctant conspirator. It's plays like low-rent reworking of Angels with Dirty Faces, a  Warner Bros. gangster film as morality tale, where the crooks are wise-talking cowards and hypocrites and the future of one kid in thrall to the swaggering neighborhood thug (Bogart, of course) and the straight-arrow guy they frames is at stake. Watch for Henry Travers (Clarence the angel from It's a Wonderful Life) as the prison librarian with a paternal streak.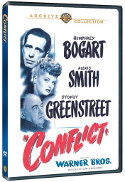 Conflict (Warner Archive), a 1945 murder mystery with a psychological twist, melodrama flourishes and a shadowy film noir style, once again features Bogart on the other side of the law, this time as a man who murders his wife after their fight wedding anniversary in what appears to be the perfect crime… until she suddenly returns to haunt him. Alexis Smith plays his sister-in-law (and the motivation for his murder — he wants to upgrade to a younger model) and Sydney Greenstreet (a familiar Bogart nemesis indeed) is a psychiatrist who gets involved when Bogie's wife mysteriously "disappears." It's a generic title for a routine suspense thriller, but Bogie is far more fascinating when he tips to the dark side in his post-"Maltese Falcon" films than when he routinely played the villain in the thirties. He's more unstable and unpredictable, suggesting a psychosis that makes him far scarier than the thugs of his gangster years. And while director Curtis Bernhardt doesn't bother trying to give the story (concocted by Robert Siodmak and Alfred Neumann) a plausible foundation, he does conduct the mood quite nicely. Interestingly enough, Bogart turned to knocking off his wives and yearning for Alexis Smith again a couple of years later in "The Two Mrs. Carrolls" (1947), also from the Warner Archive (reviewed on Videodrone in 2011 here).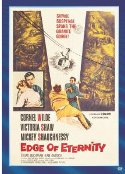 Edge of Eternity (Columbia Pictures Classics), a murder mystery set in an isolated desert mining town in Arizona where the mines closed year ago, stars Cornel Wilde as a straight-shooting sheriff trying to untangle the mystery around the murder of an unidentified stranger and the cover-up of his identity. Director Don Siegel gives the otherwise routine thriller a nice tension and a great sense of place. Shot on location near the Grand Canyon, the widescreen photography gives the open landscape a vastness and an isolation, and the "bucket" of the industrial loader that cranks across the canyon and the use of small private planes and a police helicopter over the craggy hills only adds to the feeling of remoteness. But in my own perverse way, I found it worth the time just to see the end credits offer their thanks to the many organizations that helped out, notably The United States Guano Corporation.
For more releases, see Hot Tips and Top Picks: DVDs, Blu-rays and streaming video for March 6