"History Is Made at Night is not only the most romantic title in the history of cinema but also a profound expression of [Frank] Borzage's commitment to love over probability." – Andrew Sarris, The American Cinema
Frank Borzage was arguably the most unabashedly romantic director of his time. His late silent "trilogy" — Seventh Heaven (1927), Street Angel (1928) and Lucky Star (1929) — is the holy trinity of "love conquers all": stories of star-crossed lovers whose unconditional love transcends mortal boundaries. His 1932 screen version of A Farewell to Arms was despised by author Ernest Hemingway, yet for all of Hollywood's sanitizing of Hemingway's earthy characters, Borzage gave us a frank romance between sexually sophisticated and romantically committed adults. No other director presents love — that is, the unequivocal emotional commitment between two adults — as such a spiritually pure act or powerful emotional force.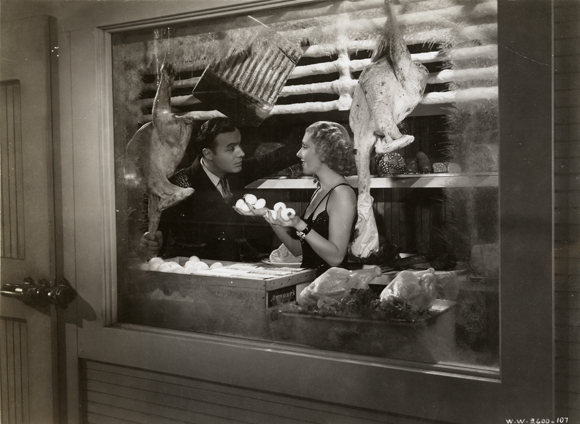 History Is Made at Night (1937) is one of Borzage's masterpieces of romantic triumph through unconditional love. Produced by Walter Wanger, an independent operator in Hollywood, without the budgets or resources that an MGM or Paramount might have brought to the film, it relies on the strength of its stars: continental actor Charles Boyer, the "French lover" of Hollywood romances, and all-American Jean Arthur, best known as a spunky, street-smart gal Friday and deft screwball actress in such films as The Whole Town's Talking (1935) and Mr. Deeds Goes to Town(1936).
The film depicts a chance meeting between Paul Dumond (Boyer), "the greatest headwaiter in Europe," and society figure Irene Vail (Arthur), a forthright, independent woman, trying to escape a pathologically jealous husband (played with manic intensity by Colin Clive); their encounter blossoms into true love and looks forward to Love Affair, the beloved romantic drama that Boyer made with Irene Dunne and director Leo McCarey in 1939, but without the elegance of the latter film's script. Their first meeting — in a Paris apartment, where Irene is saved from a devious plot by Paul's impulsive chivalry and quick thinking — plays out like a crime thriller with a screwball twist but eases into a delicately-played romance. History Is Made at Night relies on contrived plotting and an obsessive madman of a villain to throw obstacles in the way of its star-crossed couple, the savvy and chivalrous maitre d' and small-town girl turned high society prisoner. Yet the grace of Borzage's direction and the emotional conviction and palpable devotion of its two stars makes this romance glow with the fires of true love.
Continue reading at Turner Classic Movies.
Plays on TCM on Tuesday, March 6. Not on DVD.