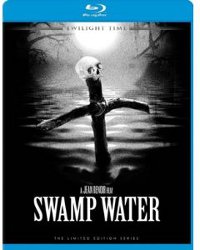 Jean Renoir's Swamp Water (Twilight Time), his first American feature, isn't ranked among his best films but it has always been one of my favorites. Set and, at least in part, shot in Georgia's Okefenokee Swamp, it's the director's most Ford-like film, in part thanks to a cast of Ford regulars (among them Walter Brennan, John Carradine, and Ward Bond) and a script by frequent Ford collaborator Dudley Nichols, and in part simply due to Renoir's own sensibilities translated into an American vernacular. Dana Andrews stars as a young trapper (well, young-ish) who ventures into the no man's land of the swamp and meets a fugitive (Walter Brennan) hiding out from a murder conviction (of which he is innocent) who becomes his silent trapping partner. Walter Huston co-stars as Andrews' protective by domineering father and Anne Baxter is the "wild cat" of girl who is (unbeknownst to the townsfolk) Brennan's daughter.
Renoir's generosity of character and complexity of community and family relationships, and his location photography gives the backwoods melodrama a dignity and an elevated, stylized theatricality, like a Greek tragedy relocated to the American south. The swamp itself is a magnificent setting, both magical and haunting, a hostile, inhospitable environment that, in its own way, becomes a protective haven for our two outsiders carving their place out of a community that, in its way, is even more hostile.
This film makes its home video debut direct to Blu-ray, making it a rare American classic available solely on Blu-ray in this country. It's a gorgeous disc, crisp and vivid with strong contrasts and a grey scale that almost looks painted across the screen. Like all of the Twilight releases, it features an isolated score track and an eight-page booklet with an essay by Julie Kirgo.