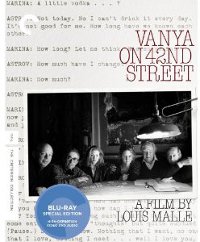 Vanya on 42nd Street (Criterion) reunites Louis Malle with his "My Dinner With Andre" stars Andre Gregory and Wallace Shawn for a performance of Anton Chekhov's "Uncle Vanya" as a rehearsal / reading. This is no sequel nor is it simply an excuse to reunite the collaborators. Gregory had been staging this private rehearsal for years as an exercise and an exploration with a group of actors whenever their schedules would permit for years and Malle was invited to film the project, which was performed in street clothes and impromptu props, as is. Wallace Shawn is Uncle Vanya, with a still largely unknown Julianne Moore (she had just made "Short Cuts" and had yet to appear in "Safe") as Yelena, the object of male adoration, Brooke Smith as the "plain" and overlooked Sonya, George Gaynes, and Larry Pine in the lead roles of the play and Gregory directing and, occasionally, providing basic narration between acts.
What Malle captures in the rehearsal space of an abandoned theater (they use the orchestra space rather than the stage, due to the hazards of a crumbling infrastructure) is unique, a marriage of theater and cinema that creates its own genre. It's a record of a creative collaboration that has a life of its own, a production staged for the pleasure of the artists themselves, and Malle's camera (handheld throughout by director of photography Declan Quinn with a steadiness that only subtly betrays its human tripod in the still moments) takes us in for an intimacy that is as much about the actor's art as it is the playwright's drama. The outside world of 1994 New York City is never more than an echo of street noise or a plastic cup with a giveaway logo away, but if Malle's contribution tells us anything, it is that the spell of a well-told story is greater than our awareness of modern clothes or the suggestion of sets.
Previously available on DVD, Criterion offers a newly remastered edition (from the original 16mm negative and supervised by DP Quinn) on Blu-ray and DVD, with a new 35-minute documentary featuring interviews with the director, producer and actors and a booklet with a new essay by critic Steven Vineberg and a 1994 profile of the production by Amy Taubin.