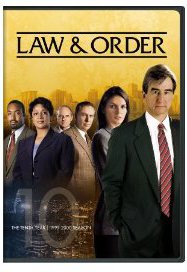 Law & Order: The Tenth Year (Universal), the 1999-2000 season of the TV's definitive crime procedural war horse, opens with Jesse L. Martin joining the series as Det. Ed Green, the new partner of Det. Lenny Briscoe (Jerry Orbach) and something of a wild card; he arrives with two complaints for excessive force and a gambling problem, both of which are evident in the very first episode.
It's also the final full season with Steven Hill as D.A. Adam Schiff, the only original member of the first season cast left (Dianne Wiest took over as the D.A. in the eleventh season). The regular cast is filled out by Sam Waterston as A.D.A. Jack McCoy, Angie Harmon as A.D.A. Abbie Carmichael, and S. Epatha Merkerson as Lt. Anita Van Buren.
Carey Lowell returns for a guest shot as former ADA Jamie Ross in the episode "Justice," where she's now a lawyer with an ethical dilemma that puts her in court up against McCoy, her former boss, and other guest stars this season include Lindsay Crouse, John Heard, and Guillermo Diaz. What it's missing is the first half of the "Law & Order: SVU" crossover episode "Entitled," which means the viewer is dropped in the middle of an ongoing story here. Otherwise, it's fun to see the casts swap partners, sending Briscoe out with Richard Belzer's John Munch and Green tag-teaming with Mariska Hargitay's Olivia Benson. 24 episodes on five discs, DVD only.
For more releases, see Hot Tips and Top Picks: DVDs, Blu-rays and streaming video for February 28