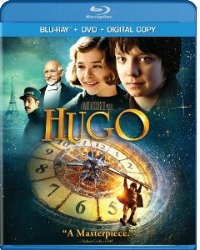 Hugo (Paramount), Martin Scorsese's first family film (it's PG!) and his first engagement with 3D is a love letter to the magic of cinema, both a tribute to early film pioneer George Méliès (played by Ben Kinsgley) and a child's adventure through a grown-up world of loss and discovery, and a fantastical recreation of 1920s Paris as a playground for a clever orphan (Asa Butterfield) and a spirited girl (Chloë Grace Moretz) to solve a mystery.
Even without 3D, this is a visual delight, from the dazzling recreation of the Montparnasse Train Station (since transformed into the Musee D'Orsay, one of the most famous art museums in the world) and the labyrinthine clockworks and passages behind the walls to the dramatization of Méliès creating his most fantastic screen dreams in his film studio. And Scorsese fills every frame with defining and playful detail (look for Django Reinhardt in the café band and Salvador Dali having coffee) and the bustle of life and character.
Befitting such an impassioned tribute to the glories of early cinema and the creators of yesteryear wonders, it is a cinematic playground of technique and color and imagination, as well as an affectionate childhood adventure.
Continue reading on Videodrone, where there is an exclusive clip from the Blu-ray supplements