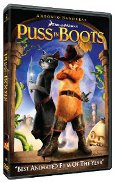 New Releases:
"Puss in Boots" (DreamWorks), the swashbuckling spin-off from the "Shrek" movies, sends the outlaw feline (voiced with a seductive purr by Antonio Banderas) on a fairy tale adventure with Humpty Dumpty that you call Jack and Jill and the Beanstalk. The films earned an Oscar nomination for Best Animated Feature and it arrives on Friday, February 24 on Blu-ray and DVD – just in time to see it before Oscar night. The Blu-ray editions feature the original animated short "Puss in Boots: The Three Diablos" among the supplements. Arriving day and date at Redbox. Videodrone's review is here.
Leonardo DiCaprio is "J. Edgar" (Warner) in the biographical portrait of the repressed, vindictive, self-promoting, and cripplingly closeted FBI director from the almost unfathomably prolific Clint Eastwood. Naomi Watts, Armie Hammer, Josh Lucas and Judy Dench co-star. Blu-ray and DVD (both with UltraViolet editions), plus Digital Download. Reviewed on Videodrone here.
"Martha Marcy May Marlene" (Fox), about a young woman who escapes a commune-turned-cult but remains haunted by the legacy, earned three Independent Spirit Award nominations: for Best First Feature, Best Actress (Elizabeth Olsen, in an acclaimed performance) and Best Supporting Actors (John Hawkes).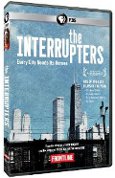 MSN film critic James Rocchi proclaims "The Interrupters" (PBS), from director Steve James, "one of the truly great documentaries of 2011." Blu-ray and DVD.
Also new this week: "Tower Heist" (Universal), a caper comedy for the modern economy, stars Ben Stiller, Eddie Murphy, Matthew Broderick and Tea Leoni (Blu-ray and DVD, plus Digital Download and On Demand); "London Boulevard" (Sony), a crime drama with Colin Farrell and Keira Knightly (Blu-ray, DVD and Digital Download, available at Redbox kiosks); "The Son of No One" (Anchor Bay), a cop drama with Channing Tatum, Tracy Morgan, and Al Pacino (Blu-ray and DVD, available at Redbox kiosks); and "The Way" (ARC Entertainment), an inspirational drama with Martin Sheen (DVD and VOD, available at Redbox kiosks).
Browse the complete New Release Rack here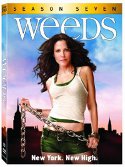 TV on DVD:
"Weeds: Season Seven" (Lionsgate) and "Nurse Jackie: Season Three" (Lionsgate), two of Showtime's most successful original series, arrive in advance of new seasons. "Weeds" opens with Nancy Botwin (Mary Louise Parker), TV's most misguided single mother and screwed-up role model, leaving prison and moving right back into the drug trade, and "Nurse Jackie" finds TV's most functional drug addict having a harder time keeping her secrets under wraps. Both shows are built around dynamic women who are both seriously flawed and amazingly strong. Blu-ray and DVD. Videodrone's review is here.
"The Fades: Season One" (BBC) is Britain's latest foray into supernatural TV, this one a palpably creepy series about spirits of the dead trapped on earth, the humans who can see them, and visions of the apocalypse. Blu-ray and DVD. Reviewed on Videodrone here.
"Borgia: Faith and Fear" (Lionsgate) is the other Borgia series (ie: the one without Jeremy Irons). This one, created and produced by Tom Fontana for European TV, was originally shown in the U.S. as a Netflix streaming exclusive. DVD only.
Also new this week: "American Experience: Clinton" (PBS), the complete four-hour documentary on the 42nd American president (Blu-ray and DVD) and "Underdog: Complete Collector's Edition" (Shout! Factory), with all three seasons of the animated series in a nine-disc box set (DVD only).
Flip through the TV on DVD Channel Guide here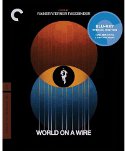 Cool, Classic and Cult:
"World on a Wire" (Criterion), made by Rainer Werner Fassbinder in 1973 for German television, is to the best of my knowledge the first film to explore virtual reality. There are no "Matrix" visuals here—you might say that Fassbinder suggests his levels of reality and identity with mirrors—but conceptually it anticipates a genre of science fiction and visually it creates a near future out of modern architecture, gangster-movie fashions, futuristic bric-a-brac, and more glass and mirrors than a crystal palace. It made its American debut in theaters in 2011 and arrives on Blu-ray and DVD in a special edition from Criterion. Videodrone's review is here.
Jimmy Stewart is country lawyer who takes the defense on a tricky murder case in "Anatomy of a Murder" (Criterion), a mesmerizing legal thriller that revels in the ambiguities of justice. Ben Gazzara (who passed away earlier this year) is the defendant, a hot-headed army officer arrested for murder, and Lee Remick and George C. Scott co-star. Blu-ray and DVD, with plenty of supplements. Reviewed on Videodrone here.
"On the Bowery" (Milestone), a 1956 mix of documentary and scripted scenes, earned director Lionel Rogosin an Oscar nomination for Documentary Feature. Long unavailable, it was restored and revived in 2011 and now debuts on Blu-ray and DVD in a volume featuring two other Rogosin films and other supplements.
Also new this week: "Blank City" (Kino Lorber), a documentary on the "No Wave" movement of DIY films in New York City in the eighties (Blu-ray and DVD); Nicolas Roeg's "Track 29" (Image), with Theresa Russell and Gary Oldman; "A Town Like Alice" (VCI) and "Carve Her Name with Pride" (VCI), two British war dramas starring Virginia McKenna.
All of the Cool, Classic and Cult here

Blu-ray Debuts:
"Unforgiven: 20th Anniversary" (Warner) – Clint Eastwood's 1992 western earned the director his first Oscars, for Best Picture and Best Director. Previously release on Blu-ray, the new edition includes all of the previous supplements and a new Blu-ray book package with notes and stills. Videodrone's review is here.
New on Netflix Instant:
The Brazilian crime thriller "Elite Squad: The Enemy Within" and the documentary "Pianomania" are now available for instant streaming, just a week after arriving on DVD.
Other new releases include "The Bang Bang Club" (eOne), about young combat photographers capturing the chaos of post-Apartheid South Africa; "Trigger" (Wolfe), Bruce McDonald's rock and roll indie from Canada with Molly Parker and Tracy Wright; and "Mangus!," a comedy of a high school teen who just wants to be Jesus in the Christmas production.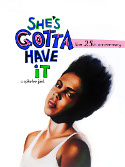 Reaching back a little to the modern American indie explosion of the eighties is Spike Lee's debut feature "She's Gotta Have It" (1986) and a small library of Roger Corman seventies film arriving, including "Rock 'n' Roll High School," "Caged Heat" and "Crazy Mama."
Instant TV episodes of "Primeval: Season 1," the British sci-fi adventure about dinosaurs escaping into modern day London, and "That '70s Show: Seasons 1-8," TV's 8-track flashback of the happy days of seventies high school and beyond.
Browse more Instant offerings here
Available from Redbox this week:
"Puss in Boots" arrives on Friday, February 24, same day as video stores. Also arriving day and date this week is "The Son of No One," "London Boulevard" and "The Way."
New to Redbox this week is "The Whistleblower," an award-winning international thriller starring Rachel Weisz as a U.N peacekeeper who uncovers a conspiracy in Bosnia.
Redbox flashback this week is "Half-Baked," a stoner comedy starring Dave Chappelle.