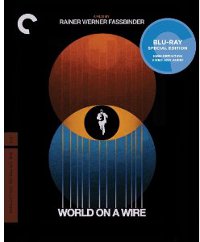 World on a Wire (Criterion), made by Rainer Werner Fassbinder in 1973 for German television, is to the best of my knowledge the first film to explore virtual reality. And this from a director who never made a science film before or since. There are no "Matrix" visuals here—you might say that Fassbinder suggests his levels of reality and identity with mirrors—but conceptually it anticipates a new genre of science fiction by at least a decade ("Tron," which takes on a simplified version of the ideas, was 1982). And though based on the novel "Simulacron-3" by Daniel F. Galouye (which also became the basis for "The Thirteenth Floor"), it takes on the paranoid anxieties and questions of identity, reality, and perception that Philip K. Dick explored in is books and later found expression in films like "Blade Runner" and "Videodrome."
It begins as a corporate conspiracy thriller by way of a psychodrama: computer engineer Fred Stiller (Klaus Löwitsch) takes over his company's most delicate project—a virtual world created entirely within a computer—when his boss is killed in a freak accident and the head of security disappears. In fact, he disappears so completely that no one even remembers he ever existed, and the more Fred digs into the phenomenon, the more "glitches" he finds in his reality.
Fassbinder and production designer Kurt Raab create a near future out of modern architecture (some of it still under construction), gangster-movie fashions, futuristic bric-a-brac, and more glass and mirrors than a carnival funhouse, and his camera is constantly reframing, moving around for a better look, or simply tracking through the increasingly alienated world of his reluctant hero. Though made for television, it has visual density of Fassbinder's theatrical films, and though the film features little physical action and no flashy special effects (slipping into the virtual world is a matter of close-circuit video, space-age helmets, and a woozy first-person POV camera), the mystery and the power struggles and the conspiratorial overtones gives the film a narrative dynamism that Fassbinder drives with his direction. Even at 3 ½ hours, this film seems to race.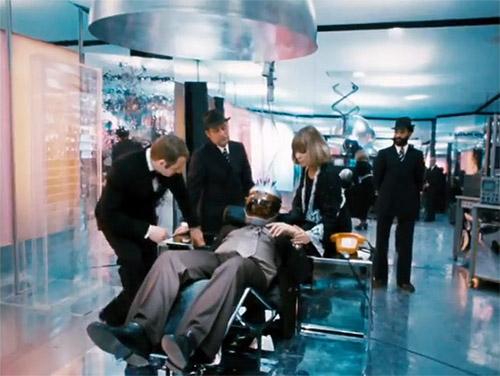 On Blu-ray and DVD, mastered from the original 16mm A/B reversal roles in a transfer supervised by director of photography Michael Ballhaus, with the 50-minute documentary "Fassbinder's World on a Wire: Looking Ahead to Today," a look back at the making of the film directed by Juliane Lorenz, and a new interview with German-film scholar Gerd Gemünden, plus a booklet with an essay by film critic Ed Halter.