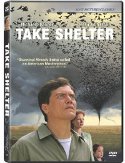 New Releases:
One of the best films of the year (just see how many lists it made on MSN's critics poll) Jeff Nichols' "Take Shelter" (Sony) is both an apocalyptic thriller and an intimate, anxious portrait of a man slipping into schizophrenia. Michael Shannon, so often cast as intimidating toughs and psychos, makes his ordeal all the more moving by his own self-awareness: just because you can't trust your fears doesn't mean they aren't real. Jessica Chastain is even better here as his understanding and exasperated wife than in "The Help." Features commentary, deleted scenes, a featurette and an actor Q&A. Blu-ray and DVD, arriving day and date at Redbox kiosks. Read Videodrone's review here.
Johnny Depp takes on Hunter S. Thompson for a second time with "The Rum Diary" (Sony), based on Hunter's quasi-autobiographic​al novel about an American journalist in Puerto Rico in the 1950s. The problem, according to MSN film critic James Rocchi, is that "it winds up being a chronicle of an actor returning to familiar territory in a moment of stasis." Blu-ray, DVD and digital download.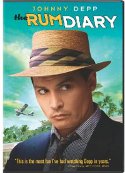 "Tiny Furniture" (Criterion), quasi-autobiographic​al film about a college student in a state of stasis after graduation, was praised as an assured and incisive American indie from a new talent. Criterion's release also includes director Lina Dunham's debut feature, "Creative Nonfiction," and four short films, plus interviews. Blu-ray and DVD. Videodrone covers both here.
"Tales From the Golden Age" (Zeitgeist), an anthology film written and produced by Cristian Mungiu ("4 Months, 3 Weeks and 2 Days"), and "Summer Holiday" (aka "Boogie") (Zeitgeist), a mid-life crisis comedy from Radu Muntean ("Tuesday, After Christmas), are two acclaimed films from the new wave of Romanian cinema.
Also new this week: "Elite Squad: The Enemy Within" (New Video) from Brazil, the grotesque cult horror film "The Human Centipede II: Final Sequence" (IFC) from Tom Six, and the single-disc DVD release of "Paranormal Activity."
Browse the complete New Release Rack here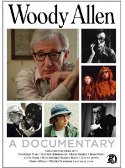 TV on DVD:
"Woody Allen: A Documentary" (Docurama), originally made for "American Masters," is the first portrait of the director made with the full cooperation of the notoriously press shy Allen. The three-hour production explores his life, career and art with great detail, and features illuminating interviews with Allen and dozens of his collaborators, friends and family members. DVD only.
"Doctor Who: The Doctor, The Widow and the Wardrobe" (BBC), the 2011 "Doctor Who" Christmas special, sends the Doctor on a holiday adventure that takes an alarming turn.
"Beavis and Butthead: Volume Four" (Paramount) picks up with the most absurdly clueless pair of happy morons on TV after fourteen years off the air as if nothing has happened… with the exception of reality TV taking over MTV. Blu-ray and DVD.
Also new this week: "Wainy Days: Seasons 1-4" (Vivendi), the web comedy series from David Wain and friends, and the British romantic comedy series "Shades" (Acorn).
Flip through the TV on DVD Channel Guide here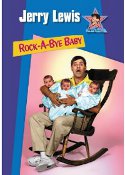 Cool, Classic and Cult:
Jerry Lewis x 3: Frank Tashlin directs Lewis in "Rock-a-Bye Baby" (Olive), a free-adaptation of Preston Sturges' "The Miracle of Morgan Creek" with Lewis playing the doting guardian of infant triplets, and "The Geisha Boy" (Olive), with Lewis as a second-rate magician who bonds with an orphaned Japanese boy while on a USO tour of the far East. He's altogether more adult, however, as a woman-hungry journalist competing with swinging bachelor Tony Curtis in the sixties sex comedy "Boeing Boeing" (Olive). Blu-ray and DVD. Videodrone reviews them here.
Louis Hayward and Joan Bennett star in "The Man in the Iron Mask (1939)" (Hen's Tooth), a low-budget costume adventure directed by James Whale (of "Frankenstein" fame). DVD only.Videodrone's review is here.
"Three Outlaw Samurai" (Criterion), the 1964 debut feature from Japanese director Hideo Gosha, debuts on Blu-ray and DVD.
All of the Cool, Classic and Cult here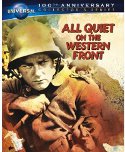 Blu-ray Debuts:
"All Quiet on the Western Front" (Universal), Lewis Milestone's Oscar-winning production of Erich Marie Remarque's devastating World War I novel, is the first anti-war masterpiece of the sound era and still one of the greatest, a horrific and poetic portrait of innocence, sanity, and young lives lost in pointless warfare in the name of patriotism. In a Blu-ray book case with rare silent film version of the film, plus bonus DVD and digital copy. Videodrone's review is here.
New on Netflix Instant:
In "Beautiful Boy," Maria Bello and Michael Sheen are separated parents who turn to each other in shared grief after the death of their teenage son. MSN film critic James Rocchi proclaims that "Both Sheen and Bello are raw and messy here… a rare chance to see real actors doing real work."
For the kids we have "Justin Bieber: Never Say Never," a "glittering piece of promotional material that confirms everything Bieber's fans know by heart" (in the words of MSN critic James Rocchi), and "Judy Moody and the Not Bummer Summer," a PG-rated kid comedy based on the children's book by Megan McDonald.
For foreign movie fans there is "Lourdes" with Sylvie Testud as a young woman on a pilgrimage for a miracle, and for action fans there is Brian De Palma's "Scarface" (1983) with Al Pacino.
And a TV alert: you can now watch "Bag of Bones," the Stephen King mini-series starring Pierce Brosnan, via instant streaming, a full month before it arrives on DVD and Blu-ray.
Browse more Instant offerings here
Available from Redbox this week: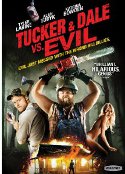 Day and date with video stores: "The Rum Diary" (Blu-ray and DVD) and "Take Shelter" (see New Releases above).
Also arriving in Redbox kiosks this week:
The horror comedy "Tucker & Dale vs. Evil" (Magnet), with Tyler Labine and Alan Tudyk as good-natured idiot hicks in the woods attacked by smug college kids convinced the boys are horror movie hillbilly killers. Hilarious mayhem ensures.
Redbox DVD flashback this week is the 2005 generic romantic comedy "The Wedding Date" with Debra Messing as a self-consciously single bridesmaid and Dermot Mulroney as her suave hired date, a proverbial hooker with a heart of gold and a soul of a romantic.