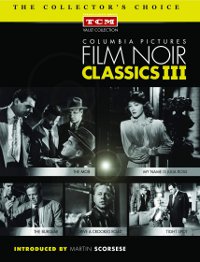 I like to think of myself as something of a noir-teurist. I love the genre (and I use the term here loosely, as film noir is really more of an attitude and a style than a specific genre) and I enjoy exploring the work of particular directors whose work embraces the noir aesthetic. But in addition to directors, there are other defining creative collaborators: actors and authors and producers and even studios can all prove to be illuminating ways to group films.
Columbia Pictures Film Noir Classics Volume III (TCM Vault Collection), a collaboration between Sony Picture and Martin Scorsese's The Film Foundation, continues the superb series of box sets showcasing some of the less celebrated noirs from Columbia Pictures in the classic era. You might say it uses the term "classic" generically (as in any films before 1960), but that's not to denigrate the films in this collection. These are minor gems polished out of low budget productions. It's just that Columbia had its own house style when it came to the studio-bound films of the forties, a particular way with its backlot street and shadowy lighting and foggy atmosphere in place of sets or locations. You can see a little of that here but like the previous sets, this collection illustrates the flexibility of the term "film noir" to encompass outliers in the shadowy, cynical American crime dramas of the forties and fifties.
My Name is Julia Ross (1945), the earliest film in this set, is more gothic psychodrama with a contemporary British setting seeped in old world flavor and a Gaslight plot, while Drive a Crooked Road (1954), barely ten years later, is a sunbright California crime drama, what I like to call beachhouse noir, a world away from the classic nocturnal urban style with its coast highways and sunny beaches and sleek West Coast architecture. The former has the noir visual palette – rooms that become increasingly suffocating, windows covered in bars to turn the manor into a virtual prison, the webs of criss-crossing shadows when night falls on the film (and the heroine) – and the latter the sour opportunism and contemptuous arrogance under the chummy surface of good-time guys snaring a repressed innocent into their criminal web. The Burglar (1957), brings both of those aspects together in a more sordid world of twitchy crooks, flophouse hideouts, duplicity as a way of life, and an atmosphere dripping in sexual longing and lust, with fractured, jagged storytelling and gargoyle close-ups that move the expressionism of the early noir classics into a more contemporary world.