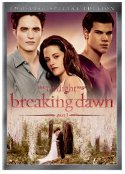 New Releases:
"The Twilight Saga: Breaking Dawn – Part 1" (Summit) follows the "harry Potter" model in splitting the final book in the series into two separate films, the first covering the marriage, the marriage night (no more abstinence for these star-crossed kids) and the rather alarming pregnancy of moody Bella Swann (Kristen Stewart) and her vampire swain Edward Cullen (Robert Pattinson). I found the last couple of films insufferable and never even saw this one (still no DVD screener in my box) but MSN film critic Glenn Kenny (a self-professed Twi-virgin) confesses that he "rather enjoyed it, at least in part." Just to be clear, "Dawn" doesn't actually break until Saturday, February 11, which means midnight release parties by some retailers. Blu-ray and DVD, both with plenty of supplements, and arrives in Redbox kiosks the same day as stores. Videodrone's review is here.
"A Very Harold and Kumar Christmas" (New Line) brings the stoner comedy duo back for one more drug-fueled odyssey, this one with a holiday theme and Neil Patrick Harris in a musical sequence. The Blu-ray 3D Combo Pack and Blu-ray 2D Combo Pack editions both include an extended "Extra Dope" version of the film and bonus featurettes, and it's also available on DVD and Digital Download. Videodrone's review is here.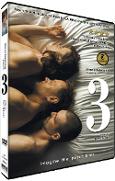 "Project Nim" (Lionsgate) is Videodrone's documentary pick of the week. Though it didn't end up with an Oscar nomination, this provocative documentary about the real-life ordeal a chimp raised like a human child and then abandoned to animal preserves and laboratory experiments is thoroughly engaging and often surprising, and it earned awards from Sundance, The National Board of Review and the Director's Guild. DVD, Digital Download, and On Demand. Reviewed here.
"3" (Strand), from director Tom Tykwer ("Run Lola Run"), is quite possibly the most romantic portrait of a ménage-a-trois ever put on screen. This tale of free love reinvigorating a relationship falling into lethargy is actually quite freeing and Tykwer offers a sympathetic perspective on the experience. In German with English subtitles. DVD only. Reviewed here.
Also new this week: "Anonymous" (Sony), a rare film from Roland Emmerich where nothing blows up, makes the case that Shakespeare was really a front for a British aristocrat (played by Rhys Ifans) and his authorship the result of a conspiracy. Blu-ray and DVD, available at Redbox. Cam Gigandet and Jena Malone star in the romantic drama "5 Star Day" (Breaking Glass) and Ryan Reynolds, Willem Dafoe, and Julia Roberts star in the family drama "Fireflies in the Garden" (Sony). Both DVD only, and also available at Redbox.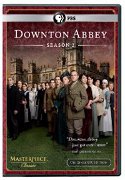 TV on DVD:
"Downton Abbey: Season Two" (PBS) offers the entire second series of the British soap opera of a costume drama that has addicted so many American viewers in its "Masterpiece Classic" showings. This season takes the "Upstairs Downstairs" collection of aristocrats and servants through World War I, a handful of romantic complications and a scandal or two. And it arrives on Blu-ray and DVD before its PBS run is complete, offering viewers an early shot at the final episodes. Videodrone's review is here.
"CSI: Grave Danger" (Paramount) is the two-part finale from the fifth season of the hit series directed by Quentin Tarantino, and arguably the show's best episode ever. It makes its Blu-ray debut in a Blu-ray+DVD set. Videodrone's review is here.
"The Sunset Limited" (HBO), an HBO Original Film production of the Cormac McCarthy play, stars Tommy Lee Jones (who also directs) and Samuel L. Jackson in a conversation about life, death, faith, suicide, and the proposition that we live in a bleak, godless universe. Not particularly cinematic, but the language and the powerhouse performance face-off makes it engaging. Blu-ray and DVD. Reviewed here.
Also new this week: "Father Dowling Mysteries: The First Season" (Paramount) marks the DVD debut of the eighties-era series starring Tom Bosley as a crime-solving priest. Alan Rickman and Emma Thompson star in "The Song of Lunch" (BBC), a BBC telefilm originally presented stateside on "Masterpiece Contemporary." "Jerry Lewis as The Jazz Singer" (Inception) presents the live TV drama (one of the first color broadcasts ever) for the first time since its 1959 debut.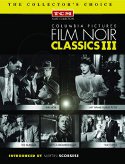 Cool, Classic and Cult:
"Columbia Pictures Film Noir Classics Volume III" (TCM Vault Collection) uses the term "classic" loosely – the five films in this collection are not the celebrated stand-outs of the genre – but that said, this box contains some minor gems. "My Name Is Julia Ross" (1945) is a gothic mystery with a "Gaslight" plot and inventive style. "The Mob" (1951) is more bare-knuckle noir, a gangster picture with Broderick Crawford as an undercover cop on the docks. The set also includes "Drive A Crooked Road" (1954) with Mickey Rooney, "Tight Spot" (1955) with Edward G. Robinson and Ginger Rogers, and "The Burglar" (1957) with Dan Duryea and Jayne Mansfield. The discs feature video introductions by Martin Scorsese and other supplements. This online exclusive is available through the TCM Shop and Movies Unlimited. Videodrone's review is here.
William Wellman's "A Star is Born (1937)" (Kino) makes a nice bookend to "Wings," which debuted last month on Blu-ray and DVD. This is another of his big, Oscar-winning (for Story and Cinematography) prestige projects, a grand fable of Hollywood stardom with Janet Gaynor and Fredric March. The new Blu-ray and DVD release, while far from perfect, looks significantly better than any previous release I've seen.
Also new this week: "Count of Monte Cristo (1934)" (Hen's Tooth), starring Robert Donat as Edmund Dantes, is a low-budget attempt at a lavish Hollywood costume adventure.  Michelangelo Antonioni's debut feature "Story of a Love Affair" (1950), previously available in a box set from Kino, its now available as a separate two-disc release with the same supplements.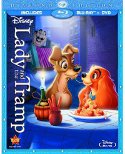 Blu-ray Debuts:
"Lady and the Tramp" (Disney), the first CinemaScope animated feature from Walt Disney Productions, is the latest Disney animated classic to get the Blu-ray treatment. You'll never see a more romantic spaghetti dinner. The new Diamond Edition includes plenty of supplements and a DVD copy.
Also new this week: "La Jetée / Sans Soleil" (Criterion) presents two films by Chris Marker, the first an experimental science fiction story told in still images, the second a free-form travelogue through Africa and Japan.  "Love Story" (Paramount) on Blu-ray means never having to say your sorry.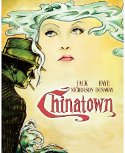 New on Netflix Instant:
Fresh from DVD and Blu-ray release come "The Mill and the Cross," a thoughtful and visually inventive drama about the story behind Peiter Bruegel's legendary painting "The Way to Calvary," and "The Double," a spy thriller starring Richard Gere and Topher Grace.
The classics newly available to stream via Netflix Instant include: Roman Polanski's "Chinatown" (1974), a seventies masterpiece starring Jack Nicholson and Faye Dunaway and an Oscar winner for Best Original Screenplay; Alfred Hitchcock's "Frenzy" (1972), one of the last films from the master of suspense; "Tender Mercies" (1983), which earned an Oscar for Robert Duvall's superb performance as a country singer finding redemption.
As "Project Nim" arrives on home video, revisit director James Marsh's Osacr-winning documentary "Man on Wire" (2008).  And for action and comedy fans, there is the martial arts slapstick of "Shaolin Soccer" (2001) with Stephen Chow.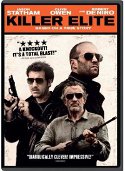 Available from Redbox this week:
Day and date with video stores: "Twilight: Breaking Dawn – Part 1" (arrives in boxes Saturday, February 11), "Anonymous," "Fireflies in the Garden," and "5 Star Day." See New Releases above for details.
Also arriving in Redbox kiosks this week:
"The Killer Elite" (Universal) is not a remake of the Sam Peckinpah thriller but it does pit elite killers (Jason Statham, Robert DeNiro and Clive Owen) in a fight to the death. MSN film critic Glenn Kenny calls it "quite the cliché-ridden desultory mess."
"What's Your Number" (Fox), meanwhile, offers the very talented Anna Faris in a very unfunny romantic comedy. (Read Videodrone's interview with Faris here.)
"There Be Dragons" (Fox), from two-time Oscar nominee Roland Joffé ("The Killing Fields"), is a drama set in the Spanish Civil War. And "The Scorpion King 3: Battle For Redemption" (Universal), is a direct-to-DVD sequel with Billy Zane and Ron Perlman.