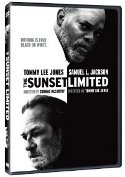 Life, death, faith, hope, and the proposition that we live in a bleak, godless universe are debated over the course of a long day in this adaptation of Cormac McCarthy's play, adapted by the author and produced and directed for HBO by Tommy Lee Jones.
It's what's known as a "two-hander" in stage parlance and this production is stripped down to the core: a single set – a run-down tenement apartment in a New York City slum – and two unnamed characters, with the world outside suggested by sound effects, the changing light and weather out the window, and the dialogue. Jones is an atheist and philosophy professor who has just tried to kill himself (he jumped in front of a train, the Sunset Limited of the title) and Samuel L. Jackson is the ex-con who spends the day trying to talk him out of suicide.
There is nothing new in this debate, which frames many of the themes McCarthy explores in his novels as a meeting of diametrically opposed perspectives on life, and at times it borders on the didactic. But it's a civil debate between strangers who respect one another, McCarthy's language is marvelous (both highly symbolic and down to earth) and the performances are engaging: Jones calmly resigned to a dark nihilism, Jackson meeting the professor's bleak philosophical pronouncements with jailhouse stories, Bible lessons and folk wisdom, all delivered  with a smile. Jones tries to create a sense of movement with his camerawork but it is very much a photographed play with two powerhouse actors lobbing meaty dialogue back and forth with such command they make it look easy.
Blu-ray and DVD, with commentary by director/executive producer/actor Tommy Lee Jones, writer Cormac McCarthy, and actor Samuel L. Jackson, and a brief featurette.