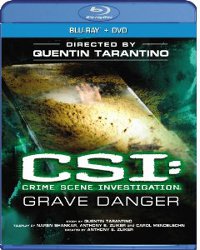 Quentin Tarantino made his second foray into television directing in CSI: Grave Danger (Paramount), the two-part finale to the fifth season of the hit procedural series.
It is arguably the high water mark of the show to date, like a mini-movie set within the CSI universe, and Tarantino (a long time fan of the show) is true to that television universe while expanding it, riffing on the characters and the conventions through his own sensibilities. You can see the Tarantino touch in his pop-culture references, entertaining dialogue digressions, and inspired celeb guest spots (Tony Curtis, Frank Gorshin, John Saxon), but his real contribution is the way he connects to the characters and draws on their backstories while they search for their kidnapped colleague (George Eads). Gus Grissom (William Peterson) uses his entomology expertise, Catherine (Marg Helgenberger) calls on her gangster father (Scott Wilson) for a favor, and the rest of the crew pitches in doing whatever needs to be done.
Tarantino slows the pace of the show to his own rhythm (it was initially slated to be a single episode, but as the producers watched the dailies stretch the running, they decided to expand rather than cut) and stirs in plenty of narrative play and sharp turns, but he remains true to the character and style of the show and the integrity of its characters. It's the rare Tarantino production that isn't R-rated.
Previously available in the "Season Five" DVD collection, this Blu-ray+DVD two-disc set includes the first Blu-ray release of the episode, and allows Tarantino fans to add it to their collection without springing for the entire season. Also includes the featurette "CSI: Tarantino Style" from the earlier set.