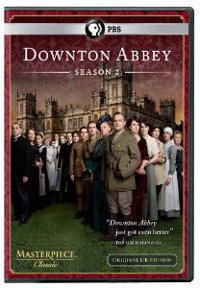 Downton Abbey: Season 2 (PBS) offers the entire second series of the British costume drama that has addicted so many American viewers in its "Masterpiece Classic" showings that it's been nicknamed "Edwardian Crack." Yeah, it's a crude American remark about a classy British production, but it's oddly appropriate. "Downton Abbey" is an elegantly-mounted production with the look and lavish detail of a feature film, but it is also an unabashed soap opera with pure melodrama under the social register credentials. Which is part of the fun.
Creator / writer Julian Fellowes (Oscar winner for his "Gosford Park" screenplay) marries the "Upstairs Downstairs" template of that film with the stately style of recent British literary telefilms and miniseries, dropping into the Edwardian era of the 1910s, to chronicle the last generation of this kind of class society, where the servants – at least those born to the service career – are as invested in the social culture of manners and conventions as the aristocrats they serve.
This series is even more eventful than the first, what with World War I adding to the romantic complications, scandals, and power plays on both sides of the class divide. Even turning the manor house into a military hospital doesn't ruffle their decorum (though it does upend their daily routine). Through it all, Lady Mary Crawley (Michelle Dockery) and heir apparent Matthew Crawley (Dan Stevens) continue dancing around their mutual attraction even as they get engaged to others, Robert Crawley, Earl of Grantham (Hugh Bonneville) tries to find some kind of purpose while younger men fight overseas, Mr. Carson (Jim Carter) strives to run a tight household on limited staff and the Dowager Countess of Grantham (Maggie Smith) grouses over every break with tradition and the proper respect that she feels must always be given to the aristocracy.