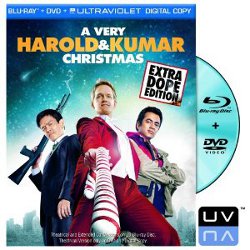 A Very Harold and Kumar Christmas (New Line) gets the "truth in advertising" award for 2011 releases. It was actually originally titled A Very Harold and Kumar 3D Christmas and that's what the credits read on the DVD and Blu-ray, even though only the Blu-ray 3D edition (which, of course, only plays on 3D compatible Blu-ray players and monitors) features the added dimension. And yet the blatant way the film throws anything and everything at the screen is almost funnier in 2D, as the pure visual exploitation is even more obvious.
3D aside, this Christmas stoner odyssey is, as the title promises, very Harold and Kumar (as embodied by John Cho and Kal Penn). Which means there is copious smoking, an insane amount of other illegal substances (some of them directed to a toddler who takes on almost superhuman powers between giggling fits), rampant racial jokes, a clay animation interlude, and Neil Patrick Harris back in action as a sleazy, sex-addicted, crack-smoking miscreant – and that's after his big song and dance number!
The DVD features three minutes of deleted scenes and an Ultraviolet digital copy, for download and instant streaming. The standard Blu-ray features the R-rated theatrical version plus an extended "Extra Dope Edition" that runs six minutes longer, a short featurette on the Claymation sequence and a collection of comic featurettes with Tom Lennon, plus a bonus DVD version. The Blu-ray 3D Combo Pack is a three disc set with all the above plus the 3D version in a separate disc.